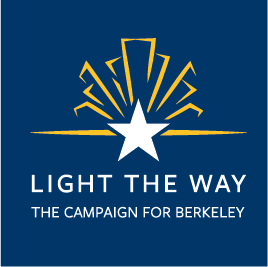 Light the Way: The Campaign for Berkeley is a comprehensive effort to raise $6 billion by the end of 2023 to invest in Berkeley's extraordinary faculty and students, research for the public good, and learning, living, and work spaces. The campaign — among the largest ever undertaken by a university — builds on Berkeley's distinctiveness in transforming lives, fueling social mobility, and changing the world. 
The campaign mobilizes the entire Cal community to stand together, demonstrating its collective power, to illuminate knowledge and realize a common vision for our future. 
Our world would not be the same without Berkeley, and we are the inheritors of all that it has made possible. Together, we are called to invest in Cal, renew its excellence, and extend its leading light for generations to come.
Campuswide priorities
The campaign will touch every part of the campus, including students and faculty, and every school, college, and program. Every gift made during this period, no matter what size or what it supports, will count toward the campaign's success.
In this campaign, Berkeley is focused not just on funding new initiatives, but primarily on raising support for the university's core strengths.
With that in mind, Chancellor Carol Christ has identified four high-level, campus priority areas:
Faculty and Fellowships to ignite the core of Berkeley's excellence 
Research for the Public Good to illuminate solutions for California and the world
Undergraduate Opportunity and Experience to brighten the brightest — our students
Places of Possibility to create new facilities and strengthen the beacon that is Berkeley
Berkeley Social Welfare priorities
At the heart of Berkeley Social Welfare are our students. We seek to significantly grow our fellowship and scholarship programs so that all students with the ambition, capacity, and compassion to embark on social work careers have the opportunity to do so at Berkeley.
More broadly, we work to foster a culture of inclusiveness in which students feel that the life experiences they bring to the classroom are valued, and mentorship is the norm. We also aim to launch a focused effort to support African American MSWstudents, including the development of stipend-supported internships with organizations currently serving the black community.
Supporting faculty recruitment, retention, and expansion is another priority. Although our per-capita faculty productivity is among the highest in the nation, Berkeley Social Welfare is smaller than our peer schools. Expanding the size of our faculty would allow us to do more of the groundbreaking research that has built our reputation over the decades. Our early-career faculty have made a name for themselves through innovative work that addresses equity and social justice. Retention of these talented and diverse scholars is critical to our goal of supporting our faculty in their career growth — and continuing to expand the diversity of our student body.
"Our school taps into something that humankind should hold sacred and protect, and that's hope," says Dean Linda Burton. "We have the potential through our efforts to enable people to live their lives to their fullest potential."
How you can light the way
$1 million – $6 million: 
Expand our faculty
Help boost funding for new faculty: A $6 million gift would support the creation of a new faculty chair; a $2 million early-career chair partially supports an associate professor; a $1 million professorship funds the salary of an assistant professor.
$1.8 million: 
Help renovate atrium space at Haviland Hall
Foster connections among our alumni, and help us increase our ability to host conferences by creating a community space on the third floor of Haviland Hall.
$1.5 million: Enhance the undergraduate experience
Fully fund Berkeley Connect for a term of five years by supporting two doctoral stipends and a faculty director, doubling the reach of this vital program that provides structured mentoring of undergraduates by graduate students and faculty.
$250,000: 
Create a transformative fellowship
Fund an endowed fellowship that provides financial support for the education of one MSW student whose research improves the lives of individuals, families, and communities.