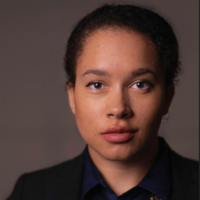 We sat down with Chief Diversity Officer and Director of Strategic Initiatives Katrina Koski to learn more about these initiatives, the way they intersect, and how they foster equity within our school.
How do YEDI and College Corps intersect? 
College Corps and the Youth Equity Discovery Initiative (YEDI) intersect in a wonderful way. The youth equity initiative first started with Professors Jill Duerr Berrick and Valerie Shapiro collaborating with colleagues in the School of Education, the School of Public Health, and folks here in the School of Social Welfare. Working with Innovations for Youth — an interdisciplinary research hub in the School of Public Health — they received a grant to support learning about youth equity through community-based research. 
YEDI combines structured mentoring with community-partnered research. Students who participate in YEDI work in collaborative research pods with faculty and graduate students on various topics relating to promoting youth equity. 
On the service side, our students had been asking us to put together a service learning opportunity. We're launching that this fall via College Corps: 60 of the program's 100 students a few dozen students will be able to volunteer with youth-focused community agencies on a weekly basis, and then come together in a seminar for facilitated reflection and deep learning about their practice setting.
College Corps will enable us to develop sustained, deep relationships in the community. Students who participate in College Corps will engage in service with a community-based organization over the course of a year and will do so in a supported cohort context. There's so much to be learned from the community, and I'm so glad that we're centering all our programming in equitable partnerships.
These programs aim to foster a spirit of discovery, which is the hallmark of not only research, but also of curiosity, and intellectual and cultural humility, as well a spirit of openness to whatever is in front of you.
Who will the School of Social Welfare be partnering with?
All of our partner programs exist at the nexus of research and practice. The School of Social Welfare, the School of Education, Public Health, the Public Service Center, the Law School, College of Natural Resources, and many other partners are eager to send their students into community-based organizations because they know that they'll come back with better insight into what really matters. Not only what really matters to students in terms of further illuminating their passions, interests and abilities, but also what is most meaningful to our neighboring East Bay communities – what makes the notions of social justice a reality, especially in the lives of those on the margins.
How do these projects tie into other DEIBJ efforts, both within Social Welfare and on the Berkeley campus?
We're at a crucial point as a society for reckoning with and supporting diversity, equity, inclusion, belonging and justice. It's also a time for our School — and for public institutions more broadly — to think critically about whether they are truly oriented toward social justice, and to operationalize those values with greater intentionality. College Corps enables us to do this by building service learning experiences that are community-based by design, and that fundamentally identify opportunities for improved quality of life — be it through climate action, food justice, education, or supporting the behavioral health and well-being of young people. So the youth equity initiative ties into and reflects our School's broad commitment to social justice.
How do these projects foster equity, both at UC Berkeley and in the broader community?
One of the amazing things about UC Berkeley and the UC system is that a lot of our students come directly from marginalized and/or low-income communities. College Corps and YEDI are really focused on not only supporting and nurturing equity at the community and statewide level, but also giving funding opportunities to students who may be low-income or first gen.
The College Corps tuition award and stipends help support students so that they have fewer barriers to participating fully in their college experience. Maybe they don't have to take on that second or third job, or they're less likely to take time off for financial reasons so they're more likely to graduate. The stipend for service learning allows students who otherwise would not be able to afford to do work like this to gain experience that might set them on high-impact career paths that are deeply fulfilling.
Programs like these — where students' lived experience is an asset in the work they do in communities and gives them insight into their research — also sends the message that students can bring their full selves, not only to Berkeley and the broader community, but also to the professional lives that they're developing.
Meeting with a lot of our grad students, these are the types of experiences that inspired them to pursue graduate degrees and professional pathways in social work and allied fields.
And this program is ambitious about supporting experiences that not only operationalize our values of equity for our students, but also empower our students, faculty, staff and community members to really move the needle forward, collectively.