In this national moment of reckoning around issues of race and social justice, the School of Social Welfare is inviting a series of speakers to discuss issues of structural inequality, policy, and advocacy.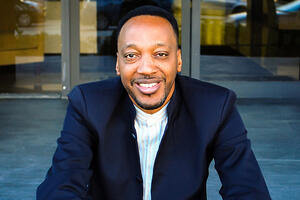 On Monday, October 19 we welcome Trabian Shorters, a leading social entrepreneur. Mr. Shorters is the founder and CEO of BMe, which trains adaptive executive leaders working in social innovation, philanthropy and education to apply asset-framing to achieve greater success, diversity, equity and impact. 

"In the non-profit world, we are often tasked with telling the story of the communities we serve... From the boardroom to the newsroom, foundation and non-profits have historically used tales of deficit and despair to incite action from stakeholders and gain the sympathetic ear of the public — unaware of the stigmatizing effects. Asset-framing is the shift to narratives that define a people by their aspirations and contributions."
The talk will be delivered live online to students in the seminar in social welfare research (SocWel282) taught by Dean Linda Burton and Associate Dean for Academic Affairs Susan Stone. A recording of the talk will be made available to other Social Welfare students as well as faculty and staff.
Previous speakers in this series include:
Dr. Louise Seamster, a sociologist whose research examines contemporary mechanisms for the reproduction of racial and economic inequality, especially in terms of debt, racial urban politics, and their intersection. 
Art Hom, who

 served 19 years as Director of Crisis Services and Assistant Clinical Professor of Psychiatry at Mount Zion Hospital, UCSF Medical Center and then 20 years as Chief Psychiatric Social Worker for Alameda County Behavioral Health Care Services. In his current work 

as a Behavioral Health Consultant at Asian Health Services in Oakland, he serves underserved Asian populations with limited language skills and financial resources.
Edgar Villanueva, a globally-recognized expert on social justice philanthropy and author of Decolonizing Wealth: Indigenous Wisdom to Heal Divides and Restore Balance.
Marco A. Davis, President and CEO of the Congressional Hispanic Caucus Institute (CHCI), who spoke about his 25 years of policy experience and advocacy at the national level for Latinx populations. 
Ambassador Attallah Shabazz spoke about her ongoing role as an educator and mentor. A producer, writer, and diplomat, she is the eldest daughter of Betty Shabazz and Malcolm X. Shabazz and ambassador at large to Belize.