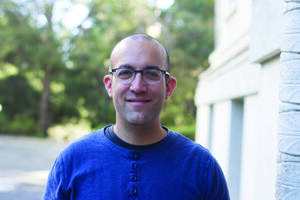 Berkeley Social Welfare has graduated 12,000 social work leaders and practitioners and is the scholarly home of distinguished faculty who produce awardwinning research and provide training in support of the profession. The School, however, had yet to directly staff a social worker dedicated to helping meet the needs of members of the Berkeley community — until now.
Through a central campus initiative that was the brainchild of UC Berkeley Professor Emeritus of Architecture, special advisor on homelessness to Chancellor Carol Christ and former Berkeley Social Welfare Interim Dean Sam Davis, Outreach Coordinator Ari Neulight officially assumed his role in July 2017. He is tasked with the significant challenge of supporting the homeless population in and around Berkeley's historic People's Park by connecting them to needed services and resources.
With 14 years of experience working in supportive housing in San Francisco's Mission and Tenderloin Districts, Neulight is keenly aware of where efforts and approaches should be directed in dealing with an issue as large as homelessness. "Homelessness is a hard, intractable thing where change isn't always visible," he says. "But it doesn't mean that things aren't happening with individuals and communities in small, valuable ways over time. That's what I focus on."
Neulight spoke with Social Welfare at Berkeley about his day-to-day duties; managing the numerous community partnerships among the campus, city, first responders and local agencies; and how Berkeley students are contributing to the work being done at People's Park.
Describe your work as outreach coordinator.
I think of my job in three parts. The first is direct-service homeless outreach linkage by being a consistent, visible presence. I do this alongside the Berkeley Food and 4 Housing Project; they come out weekly to do assessments for housing and other services. I also work with the Senior Center, Berkeley Mental Health Services, Alta Bates Emergency Department and the East Bay Community Law Center, just to name a few. I do a lot of work with the Suitcase Clinic [a voluntary student organization offering free health and social services]. I help identify people who can benefit from the services and facilitate that link.
The second piece is serving as a liaison for the University with a range of partners, such as the city, county, churches and the Business Improvement District. I work with them in figuring out ways for the University to be a better partner in our collaborations. 
The last part is working with students, projects and research on homelessness. That has included sitting on a University workgroup; I'm currently involved in one focused on youth homelessness. It has also involved delivering lectures on the topic and working with faculty across departments.
How are you working with local police and other first responders on homeless outreach?
I meet with the Berkeley PD, UCPD and other emergency response teams to brainstorm about people who are highusers of emergency services. One thing that's been great is that the UCPD will get in touch when they come across people who could benefit from my help. I want to be a resource and to give the police another tool. When they see someone who needs a blanket or needs a place to go, they know they can call or text me.
How are you working with UC Berkeley students — in the MSW and other programs — on issues related to People's Park?
Most students find me through the Suitcase Clinic. People also get directed to me. Right now there is a volunteer project, several student groups and a church group doing various things at the park. We're also in the process of assessing and determining the capacity for MSW student field placements. We are probably going to have either two first-year students or one second-year student next year.
I also work with faculty in their classrooms. I hosted several panels for Susana Fong, co-taught classes with Greg Merrill and Eveline Chang and have a lecture coming up for Tina Sacks. I did a more intensive project with Professor Julian Chow last fall. He wanted his class to be more relevant for the students, so we discussed having People's Park be a focus. I delivered a lecture on the history of the park and homelessness in Berkeley, and the students did an observation of the park. We debriefed on the observations and all worked together on an assessment tool and identifying some areas and needs to be addressed, with the students presenting project proposals.
How did you become involved in homeless support?
I've always done social services. When I was 13 I went to a summer camp that was about teaching values of community, social justice and service. That, more than anything, launched my path. I ended up getting interested in psychology and earned an MS degree. I eventually started doing community organizing, working for ACORN in San Francisco. I next took a job at an SRO doing tenant organizing, when a social worker position opened up. The supervisor for that position said I would be great because of my focused mental health training, social justice values and concern for community. I've worked in supportive housing since then and also decided to get my MSW degree.
So social work, it seems, found you.
It held all of what I wanted to do. I could keep the macro justice values while being on the ground figuring ways to make things work for folks and their most immediate needs.