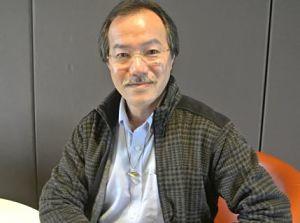 From Immigrants' Rights in Oakland to Pro-Democratic Protests in Hong Kong's Umbrella Revolution, Fernando Cheung (PhD '91) Champions Justice
Fernando Cheung earned his doctoral degree at Berkeley Social Welfare in 1991 while serving as the executive director of the Oakland Chinese Community Council. His advocacy work on behalf of immigrant communities was so widely respected that the City of Oakland declared September 13 "Dr. Fernando Cheung Day" to mark the date that he left the Bay Area to return to his native Hong Kong, where he launched his political career.
Politics were not part of his original plan, as Dr. Cheung's intent was to focus on teaching welfare policy and management courses. But after witnessing Hong Kong's enormous income gap, high poverty rate and what he describes as "the most unaffordable housing city in the world," he decided to run for Hong Kong's Legislative Council. Backed by the region's social workers, he was elected to office in 2004 and has served continuously for the past 11 years.
Among the many causes he fiercely champions are disability rights and reforming the region's subventure system — the mechanism through which nongovernmental agencies (NGOs), which deliver the lion's share of Hong Kong's social and human services, receive financial support from the government. Dr. Cheung is concerned that as NGOs grow increasingly dependent on this funding stream, the more unstable and unreliable the subventure scheme has become. "NGOs are losing their capacity for advocacy," he says. "They have become an executive arm of the government. Many have become contractors rather than vibrant, mission-led organizations. New resources are allocated mostly through competitive bidding, and NGOs are competitors. Social-work knowledge becomes proprietary, and social workers don't want to discuss delivery systems with one another."
True to his Berkeley education, Dr. Cheung has earned the nickname, "Longhair of the Social Service Sector." "I called for a more rebellious attitude among social workers," he says. "I was elected in the name of overhauling the subventure system." "But that's the problem with our society. the government is not accountable to the people," he adds. "It's not even accountable to the leaders of the community."
Dr. Cheung's advocacy and rebellious spirit became the focus of international attention in the fall of 2014, when he emerged as one of the pro-democratic leaders of Hong Kong's Umbrella Movement. The student-led act of civil disobedience — initially organized by prominent activists known collectively as Occupy Central — grew to involve an estimated 1.2 million people during the 79-day campaign. The largest public protest ever against the dictates of Beijing was directed at the Chinese government's decision to prescreen candidates for Hong Kong's leadership election, with protesters demanding an open, free and fair election.
By the end of September, violent clashes between the regional police force and protesters resulted in international observers nicknaming the movement the "Umbrella Revolution" because of the students' use of umbrellas to protect themselves from tear gas and batons. Dr. Cheung assumed a pivotal role as a negotiator between the two sides and is credited for helping restore the peace for the remainder of the protest. The physical occupation and campsites along Hong Kong's Admiralty waterfront district eventually disbanded in early 2015, but Dr. Cheung notes that the movement continues to have ramifications. "The awakening and rebellious attitudes have been planted in everybody's mind," he says. "Our government will surely continue to make these mistakes given that they are not accountable to the people. Something will happen, and there will be future acts representing the anger and uproar."
As the only child of an elementary-school teacher and a nurse, Dr. Cheung says that the helping professions were the only career path he has ever known or would have ever considered. "My parents encouraged me as a child to volunteer, and by engaging in these activities, I fell in love with the profession," he explains. "I thought, 'If I can devote myself to helping the needy and turn that into a vocation, I could have a fulfilled life.'"
Dr. Cheung earned his undergraduate degree in social work from Hong Kong Baptist University and his MSW from California State University, Fresno. He decided to pursue a PhD in social welfare because it was an option not available to him at the time in Hong Kong. He retained his role as head of the Oakland Chinese Community Council during his doctoral studies because of the importance he places on practice. "I knew I shouldn't go into a teaching position until I collected sufficient experience," he says. "One of the problems of academia is that a lot of people who have gone through higher education immediately jump into teaching."
"Social work is an applied profession," he continues. "Practice is everything. We want to build our knowledge through research and development, and we want to refine our delivery models and our skills. But in the end, practice is the main goal and where we want to make changes."
It is through this lens that Dr. Cheung also approaches his political work. "I see my role here as a legislator as a way of macro-practice," he says. " I am at all times a social worker."
First and foremost, however, Dr. Chung continues to be a pro-democracy leader. "I think that Hong Kong stands tall in our will and courage to be able to say no to Beijing," he says. "We refuse any false or misleading type of democracy to be imposed upon us."
"Younger generations of Hong Kong have become so discontent with the current regime," he adds. "They're impatient, and they no longer trust existing structures and avenues to represent them anymore."