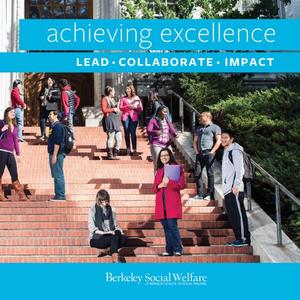 The world faces many challenges over the next several decades, from growing economic inequality to the disproportional impact of climate change on the poor. Unequal access to the institutions of power in society also exacerbates a sense of social unfairness. These changes have the potential to increase instability worldwide and at home. Additionally, decreasing support for public higher education significantly limits our ability to sustain and grow our School and programs to respond quickly and effectively to these challenges.
Berkeley Social Welfare's challenge is to continue to be relevant, dynamic and sustainable as we lead discoveries that will help solve these current and emerging social issues.
Taking Charge of our Future
In 2013, we embarked on a transformative strategic planning process to focus our attention on identifying the elements of a more robust and sustainable future, not only for Berkeley Social Welfare, but also for and with our community partners. At Berkeley Social Welfare, we strive to train scholars and practitioners who can work and lead across issues, across sectors, at multiple levels and within the constantly changing field. To accomplish this, we set out to develop goals that reflect the multidimensionality of the field.
Over the course of 18 months, we held 36 meetings and events and consulted with 138 people, including faculty, staff, students, community stakeholders and leaders and deans from other professional schools on campus to get diverse perspectives on the needs, challenges and opportunities that may arise in the field in the next decade. Our discussions guided the development of our four goals, which embody our mission, vision and values as well as help us maintain a leading role in the future of our society:
Lead discoveries that solve grand challenges facing our society in the coming decades.
Educate for impact by developing practitioners and scholars with the skills to become leaders in our communities, the courage to challenge conventional wisdom and the creativity to find innovative solutions to our most pressing problems.
Ally with communities to organize social change at neighborhood, community, national and global levels.
Develop a sustainable community to maintain our leadership in discovery and transformative change for the common good.
These four goals create the foundation for a more vibrant and dynamic Berkeley Social Welfare in the coming years. Our plan, Achieving Excellence, details how Berkeley Social Welfare will achieve these goals and build a sustainable future in which we continue to lead, collaborate for and impact change for the common good.