Every summer for the last six out of seven years, Lecturer and Training  Consultant for the Latinx Center of Excellence Luna Calderón has led MSW students in the Sin Fronteras program. Designed to improve students' Spanish fluency and train them in culturally responsive social work practices for Latinx populations, Sin Fronteras typically involves a five-week stay in Oaxaca with language and culture classes and a service learning program.
This year, of course, is different. Instead of bringing students to Oaxaca, Sin Fronteras is bringing Oaxaca to the students through a virtual program. 
Back in March when it became clear that the pandemic would interrupt travel and in-person learning, Calderón reluctantly notified the students who had applied for the program that all Berkeley Summer Study Abroad programs were cancelled for 2020. She then contacted Marta Canseco, the director of Becari-Conzatti  language school, to break the news that students would not be coming. Dr. Canseco asked whether the language component of the program could be offered virtually, since her school already offered online learning. 
The idea grew from there. The instructors who had taught classes on cultural issues and practices were all willing to teach remotely, and so Calderón was able to bring the classes to students sheltering in place in the Bay Area. 
Some of the students who were originally enrolled opted not to participate; they will be able to participate in next year's program. Meanwhile, other students who would not have been able to go to Oaxaca were able to join the virtual program. For those students, the move to an online program was an advantage. And without travel and lodging expenses, overhead for the program was reduced so that the Latinx Center of Excellence and the School of Social Welfare were able to cover the cost for students. 
Classes — which began June 1 — take place via Zoom. The delivery method may be new but the content is well-practiced: all of this year's instructors have taught with Sin Fronteras in the past. Judith Bautista, a Zapotec scholar who leads a weeklong unit on racism in Mexico, has been with the program for four years. Psychotherapist Monica Sierra, who teaches culturally rooted interventions, is in her sixth year of teaching with Sin Fronteras. Curandera Lennis Herrera has been educating Sin Fronteras students about traditional healing practices for the past three years.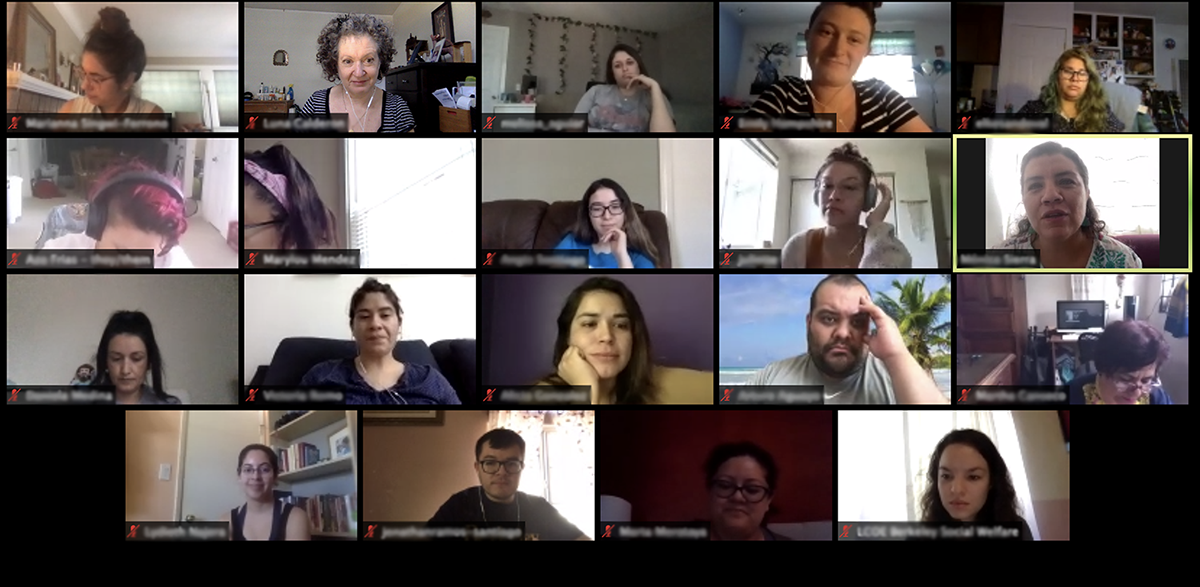 As with the in-person language classes in Oaxaca, students are divided into groups based on their level of fluency, and all students learn vocabulary specific to social work practice. But Zoom classes offer an unexpected advantage for learning in a foreign language. In an in-person class, if you don't understand the professor you can either ask for an explanation, check with a classmate later, or just miss the content. With a recorded Zoom lecture, you can replay the content until you understand… or you can review it as a group with your language instructor!
There are drawbacks, of course. A remote program doesn't offer the cultural immersion of an in-person program, and the homestay component of Sin Fronteras gave students a taste of family life in Oaxaca and a chance to practice their Spanish outside the classroom. And while in past years students have participated in a service learning program with Centro de Esperanza Infantil, there was no way to recreate that online. 
"It doesn't replace an in-person program," says Calderon, "but it gives us an opportunity we hadn't thought of." 
Like any endeavour, planning Sin Fronteras truly takes a village. In addition to the support provided by our partners in Oaxaca, Sin Fronteras Virtual Edition would not have come to fruition without the support of LCOE Assistant Director Lissette Flores, LCOE Program Coordinator Jessica Martin Gonzalez, and Assistant Dean for Admissions and Student Services Robert Teague. Lissette and Bob ensured that all participating students had summer funding. Jessica Martin Gonzalez provides stealth planning and technical coordination on a daily basis; coordinating small group classes with 15 students and six instructors in Oaxaca via Zoom involves many skillful maneuvers. Thanks to the effort of this transnational team Sin Fronteras persists despite the pandemic.
Like the in-person program, the online program will help alleviate the shortage of social workers working with Latinx communities by training bilingual, culturally competent social workers. It's also more affordable. Mostly, though, it's a testament to the creativity and adaptability of Luna Calderón, the LCOE, and the students who are participating. Felicidades!