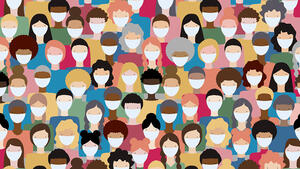 Students working towards their Master of Social Welfare are required to complete over 1,100 hours of field training. They are placed in schools, health care settings, mental health agencies, jails and residential programs, county protective services, homeless services, and other social service organizations.
Keeping students safe while they train to be frontline workers is an utmost priority during the pandemic. Over the summer, faculty members worked closely with students and partner agencies to determine which internships could be fully or partially remote and to ensure that students would have the same access to PPE as agency employees.
But with the memory of PPE shortages still fresh, school leadership wanted to provide students with the ability to purchase their own supplies. They also wanted students to be able to meet other costs associated with the pandemic, like parking for students who wanted to avoid public transit or better broadband for students doing remote work.
After an initial email appeal and some individual asks, Assistant Dean of Development and External Relations Veronica Alexander, Development Associate Lia Swindle, and Communications Manager Jennifer Monahan turned to crowdfunding. With help from Ryan Lawrence, UDAR Associate Director of Digital Philanthropy, they set up a page on crowdfund.berkeley.edu.
This effort raised over $30,000: enough to provide every MSW student with a $150 grant to cover pandemic-related costs during the fall semester. As the pandemic continues, more PPE will be needed for spring, so another appeal is planned.
Meanwhile, the grant was very much appreciated by students. The flexibility of a cash grant allowed them to choose the options best suited for their needs. Equally important, the generosity of donors helped students feel supported as they train to serve the most vulnerable in our society.