We are proud to announce that Berkeley Social Welfare faculty have received two prestigious and highly competitive grants from the William T. Grant Foundation, which focuses on improving the use of research to reduce inequality and promote the wellbeing of young people. The Foundation is known for its support of community-engaged scholarship, as this year's awards at UC Berkeley illustrate.
Valerie Shapiro named William T. Grant Foundation Scholar
Associate professor Valerie Shapiro has been named a William T. Grant Foundation Scholar; she is one of five early-career faculty to receive the national award this year. This prestigious program supports career development for promising early-career faculty, and awards are based on applicants' potential to become influential researchers. Shapiro will receive $350,000 in funding over the next five years in support of her research initiative, "Leveraging Research Evidence to Improve Social and Emotional Learning Delivery Systems."
Shapiro's project will investigate the ways intermediary units (organizations whose work includes packaging and promoting research findings for practitioner use) contribute to an infrastructure for effective prevention practice. She will be working in partnership with UC Berkeley's Greater Good Science Center (GGSC), whose recently-launched website Greater Good in Education distills research findings to promote the social, emotional, and ethical development of students and the well-being of the adults who work with them. However, the ability to study and improve these web-based interventions is hindered by a lack of techniques for measuring the actual use of research evidence that results from interactions with their website. Shapiro's project seeks to develop measures to describe the ways in which educators engage with research-brokering websites to acquire, assess, and appropriate research evidence; then test measurement validity; and finally provide measurement and interpretation protocols to an open-source repository and explore their transportability to other research-brokering organizations. Those interested in becoming involved with the project can start by registering online as a Greater Good in Education website user.
This project represents Shapiro's continued commitment to understanding and shrinking the gap between rigorous research and routine practice by developing infrastructure for the promotion of social-emotional competence and the prevention of mental, emotional, and behavior problems in children.
This project is important under any circumstances, but it has particular relevance in the COVID-19 crisis as educators do more of their teaching, planning, and professional development in virtual environments. Understanding how research evidence encountered on the internet is incorporated into educators' thinking may help improve these websites to help translate rigorous research into routine practice by educators and professionals seeking to promote the well-being of young people.
Says Shapiro, "I feel tremendously grateful to the William T. Grant Foundation for this recognition and support as the first receipt of a Scholar Award with a focus on the Use of Research Evidence. I look forward to learning from and with my project mentors, Dr. Marti Hearst and Dr. Meredith Honig, and the foundation's tremendous network of affiliated scholars. I also want to thank Dean Emeritus Edleson and Dean Burton for their commitment to the career development of early career scholars as most recently indicated through their instrumental and integral support of my project."
Professors Emily Ozer and Susan Stone receive Institutional Challenge Grant in partnership with San Francisco Unified School District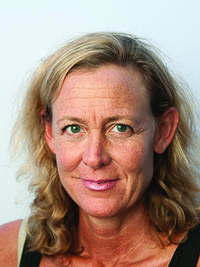 Professors Susan Stone and Emily Ozer, in partnership with the San Francisco Unified School District (SFUSD), received one of three William T. Grant Institutional Challenge Grants awarded nationwide. The Institutional Challenge Grant program encourages university-based research institutes, schools, and centers to build sustained research-practice partnerships with public agencies or nonprofit organizations. It provides $650,000 in funding over three years.
Instead of the traditional investigator-driven research agenda, research-practice partnerships (RPP) develop a joint research agenda with an agency partner. In this instance, UC Berkeley and SFUSD have jointly initiated a cross-disciplinary and cross-sector RPP aimed at reducing inequalities in chronic student absenteeism. Chronic absenteeism disproportionately impacts African Americans, students in foster care, students who are homeless or marginally housed, LGBTQ students, and students receiving special education. The RPP seeks to enhance SFUSD research utilization and improvement routines by incorporating youth voice and youth-led participatory action research. The team anticipates that addressing inequalities in chronic absenteeism will be advanced by students' research, enabling insights into factors that shape chronic absenteeism, why current SFUSD efforts to reduce chronic absenteeism have not yielded hoped-for effects, and how to intervene more effectively with the most vulnerable populations.
Emily Ozer from the School of Public Health is the Principal Investigator and Susan Stone, School of Social Welfare, will serve as Co-Principal Investigator and Senior Fellow from the UC Berkeley side. Norma Ming, PhD, Supervisor of Research and Evaluation, Research, Planning, and Assessment Department, San Francisco Unified School District is the Principal Investigator/Senior Fellow from SFUSD. A key goal of this grant mechanism is to support institutional change for both research institutions and public agencies / nonprofit organizations to create robust, sustained research partnerships. Ozer and Stone plan to continue efforts, with a broad coalition of campus and administrative stakeholders, to develop a concrete process for stronger recognition and crediting of community-engaged scholarship in Tenure and Promotion (T&P) and merit advancement processes. Dean Linda Burton of the School of Social Welfare, Dean Michael Lu of the School of Public Health, and Dean Prudence Carter of the Graduate School of Education will also play roles in this project. This project received key support from central campus leaders and the Office of the Vice Chancellor for Research.
Stone stresses that this project "builds on years of prior relationships between our Schools and SF Unified, and it builds on initiatives that coalesced multi-disciplinary partnerships on our campus." She adds "Emily and I are delighted to continue our work with the district. We are grateful to the William T. Grant Foundation for this crucial and well-timed support. And, we are so thankful for the strong support to pursue this grant by senior campus leaders and deans. They provided concrete commitments and mentorship to us and will continue to play roles as advisors in crafting strategies to advance institutional change efforts."
Emily Ozer highlights that these efforts have a new urgency in light of the COVID-19 pandemic. "With the current COVID-19 crisis in K-12 education in SFUSD (and everywhere), there are key time-sensitive opportunities for our Berkeley partnerships with school districts, cities, and the state to provide innovative models for integrating the expertise of young people into policies and practices to promote equitable access to learning as well as to health and other basic needs."