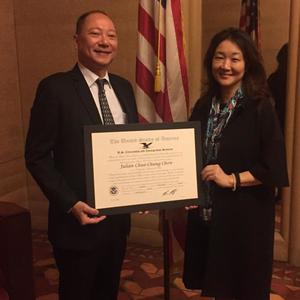 Berkeley Social Welfare Professor Julian Chow has been named Outstanding American by Choice (ABC) by the federal government's US Citizenship and Immigration Services (USCIS).
Dr. Chow, whose research interests include community practice and service delivery in ethnic and immigrant neighborhoods as well as cultural competency services, was honored at a special naturalization ceremony on October 19th in Oakland's Paramount Theater.
As part of the event, Dr. Chow delivered remarks to 1,000 new American citizens hailing from 93 countries. In his speech, he paid special tribute to his father, who moved from his native Taiwan to Alabama more than 40 years ago to try to give his children opportunities for a better life.
Click here to learn about USCIS' Americans by Choice initiative.
Click here to read Dr. Chow's USCIS awardee profile and to view past award recipients.
Photo: Dr. Julian Chow is presented the Outstanding American Choice Award by USCIS Chief of Staff Juliet K. Choi