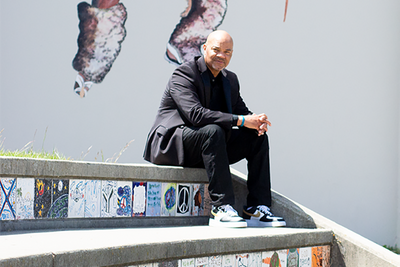 When the pandemic closed schools in March 2020, Brian McGhee found himself bagging breakfasts and lunches for students at West Oakland Middle School and providing other support at McClymonds High School. As a social worker, he knew that "once we feed families, then we can talk about educating our families."
He made sure students had computers and tech support. He kept an eye on students' mental and emotional health as they adapted to remote learning. He worried about students who had been struggling before the pandemic: "If they were struggling while we were in person, how can you get them to log on at home and sit there for hours and stay engaged?"
As the pandemic stretched on through summer 2020, McGhee went above and beyond for families experiencing food insecurity: he raised funds to hire a chef so that families received a week's worth of fresh ingredients and recipes. In short, he made sure that students knew someone was looking out for them.
In his current role as Program Manager for African American Male Achievement in the Oakland Unified School District's Office of Equity, McGhee supports academic success, social and emotional learning, family engagement, and wraparound care when possible. Whether students choose a path towards college or direct entry into a career, he wants them to be well-prepared. In short — as he puts it — he wants to "make sure that this community, which has been underserved for years, gets what they need to be successful."
His advocacy on behalf of students extends to families as well. Would job training or a GED for a parent give them more opportunities? Does a family need housing assistance? McGhee looks beyond kids and classrooms to take a holistic view of students' needs.
After a year of remote learning, he continues to focus on questions of equity, engagement, and meeting students where they are. "If we can continue to engage our kids, and be creative around how we teach them, and meet them where they are, then they will start building on success, week by week and month by month."
His strong roots in West Oakland augment his connection to students. His family has lived there for 75 years. His mom Hattie worked for the US Postal Service throughout her career, and his father Clarence Sr. worked in auto manufacturing. His parents graduated from McClymonds; so did his six older brothers and sisters.
In addition to having a strong family history, he also gives much gratitude and fondness to his high school sweetheart Relonda McGhee. Relonda is also a social worker and received her BA from CSU East Bay and her MSW from San Francisco State University. "Relonda has been a great supporter of my work in the community of West Oakland for the last 30 years. She is well connected in the community and has provided me with encouragement, strength, love, and a willingness to advise when needed. We have been married for 30 years and she has been my support from the very beginning of my professional career."
As a child, he attended after-school programs organized by the Black Panther Party. "I didn't know what political thing was behind it, but I knew there were people who looked like me, cared about me, fed me after school, read to me and told me it was important to know who you are and where you come from."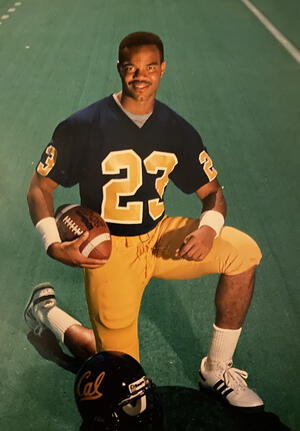 A star quarterback at McClymonds, he drew a lot of attention from college recruiters but was clear-eyed about the value of a college degree. A 1985 news interview shows a teenaged McGhee saying "I'm not going to be an athlete forever." He chose UC Berkeley in part so that he could give back to the community while he was a student. He played football from 1985 to 1990 — forging lifelong friendships both on and off the field — and remains grateful to coach Joe Kapp for recruiting him.
He chose Social Welfare as a major in part because he connected the material in his social welfare classes to his lived experience, from seeing others in his neighborhood get caught up in the crack epidemic to getting stopped by police in a case of mistaken identity. Thinking about the aspects of his upbringing that had instilled resilience, he wanted to help others build that same resilience. "The bottom line is that I wanted to go help my community."
After graduation and a brief stint playing All-Star football in Japan, McGhee enrolled in the MSW program at San Francisco State. Since earning his MSW, he has worked with Alameda County's Office of Social Services and Office of Education as well as Casey Family Programs. The experience he gained in those roles are an asset in his current role with OUSD. Not only does he have experience as a frontline care provider for kids in the juvenile justice system and foster care system, but he knows that showing kids you care is the bedrock of any relationship with them.
He is conscious of the power of example and representation as he goes about his job. His years playing football give him credibility when he tells students that even the strongest athlete needs a backup plan when only 2% of college athletes go on to play professionally. And as a McClymonds alum who graduated from UC Berkeley and went on to earn an advanced degree, his words of encouragement carry added weight. He remembers one young woman whom he met when she was in eighth grade at Westlake Middle School. At the time, he told her she had what it takes to go to UC Berkeley. She went on to do well at McClymonds, get accepted to Cal with an academic scholarship, and earn her degree from UC Berkeley. She later shared with him that his "planting the seed" encouraged her to set her sights on Berkeley. Comments like that, he says, make him realize how much he can touch people's lives.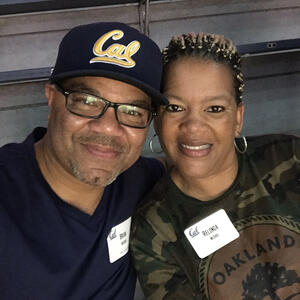 As a member of the Dean's Alumni Advisory Board, McGhee's first hand perspective can help inform the social welfare and sports initiative that is taking shape. He is also a strong supporter of Dean Burton's efforts to enroll more students from underrepresented groups — with a particular emphasis on addressing the need for more Black men in the profession of social work — and ensure that students feel welcomed and valued within the School.
Asked about Brian's greatest strength, his wife Relonda cited his selflessness and the many connections that he has built over the years. "His connection to every era in the West Oakland community — from elders to parents to kids — really helps him make a difference."
We are proud to count him as part of the Berkeley Social Welfare community.