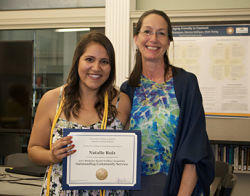 Graduating Berkeley Social Welfare major Natalie Ruiz (BA '17) has been named a recipient of the 2017 President's Award for Outstanding Student Leadership. Ruiz is one of two awardees to be selected by the Office of University of California President Janet Napolitano for this highly prestigious honor.
Ruiz, who is graduating with a double-major in social welfare and sociology, was nominated by Berkeley Social Welfare Professor Jill Duerr Berrick. In her nomination, Dr. Berrick noted Ruiz's "exceptional leadership in the Student Parent Association for Recruitment and Retention (SPARR) Food Donation Program," which resulted in the tripling of the program's donor base as well as expanded services to 100 student-parents and their children.
UC Berkeley Chancellor Nicholas Dirks observed in his congratulatory letter to Ruiz, "You and your program partners have made an impressive impact on food security for student-parents and their children on campus."