We lost one of our own this week. Here is Dean Burton's message regarding the death of recent alum Sylvia Bracamonte:
Dear Haviland community,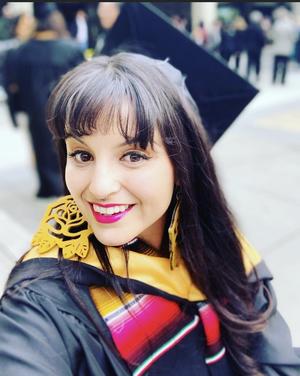 We were heartbroken to learn of the death yesterday of Sylvia Bracamonte, who graduated from our MSW program last spring. She also earned her undergraduate degree in social welfare at Cal, and was the mother of two young children. I spoke with Sylvia's mother a few minutes ago to let her know that we are here for her, her family, and Sylvia's children. Her mom is very proud of Sylvia's ties to Haviland and hopes that we will always remember her daughter.
We know from a GoFundMe page established by a family member that Sylvia's death occurred while she was at work at Sanctuary House in Sonoma County, but her family has not shared other information with us at this time.
While I did not know Sylvia personally, it is clear that she was a leader in our community and was greatly admired. Tina Sacks remembers her as "light, life, and love," and Kurt Organista as "just on fire about education [and] "thrilled to be a social worker." Christina Feliciana says she was "a fierce advocate, a kind and reflective learner, a loving mother and a generous friend to her classmates ... She was a warrior for her Latinx community in Santa Rosa. I grew from knowing her and learning from her." eveline chang describes her as "a phenomenal scholar of life, of truth and of justice; an organizer and bridge-builder who has truly embodied love at the core of everything she fought for across all communities."
This is a terrible loss, and we are exploring ways to honor her memory within the School of Social Welfare. There is also a GoFundMe to help her family cover immediate expenses: https://www.gofundme.com/f/sylvia-bracamonte
This sad news comes at what was already a time of considerable stress, and I would like to remind you of support resources across campus. Students may visit the well-being resources section of the Associate Vice Chancellor and Dean of Students' website for information about holistic wellness resources at Berkeley.
For those who may need mental health support, campus counselors can be reached by calling Counseling and Psychological Services at (510) 642-9494 during regular business hours. For after-hours and weekend support, call the 24/7 line at (855) 817-5667. Staff and faculty contact the  if they are in need of support.
Yours in shared sadness,
Dean Burton