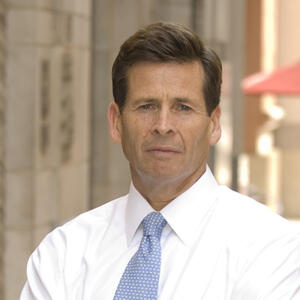 Meeting Greg Evans (MSW '86) in the high-rise office of the McGuireWoods law firm in downtown San Francisco, you wouldn't guess that he opened his first law office in a homeless shelter. As a law student in South Bend, Indiana, he had worked with the school's Dean and the community to open a shelter in an abandoned department store using federal McKinney Act funding, and he ran the South Bend Legal Clinic for the Homeless in the shelter. Evans had already worked with homeless populations during his first-year MSW field placement at the Larkin Street Youth Center in San Francisco's Tenderloin, and knew that access to housing was the foundation on which other supportive services could be added.
His first trial represented a woman who was being evicted from public housing because she didn't pay rent on time. Evans remembers the initial call: "I said, 'Well, where are you?' and she said, 'I'm at my section 8 housing in Mishawaka, Indiana and the sheriff has just served us and I don't have anywhere to go with my children.' I said 'Stay put, I'm on my way.'" The case eventually went to trial, and the family was able to stay in their home.
Throughout his career, he has consistently used the law as a tool to advance the social welfare values he learned at Cal, ensuring the setting and implementation of policy that enables the day-to-day work of direct service.
His focus on helping others emerged early on. Growing up in a lower-income neighborhood in Los Angeles, he saw his mother — the daughter of immigrants — consistently volunteering in the community. "My mother taught us by example the importance of helping others even though you may be of very limited means. That's when I first became interested in working in the area of social welfare and social policy."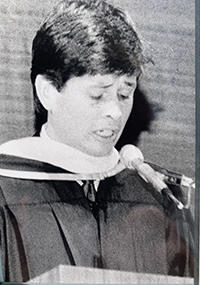 Evans was in the process of applying to law schools when he learned about the MSW program at UC Berkeley. "Dean Specht, was, I think, the best recruiter that the university could have had for the School of Social Welfare. You got the feeling when you met Dean Specht that you had this tremendous talent and he had confidence you were going to be able to devote your energy in the right areas."
These days, Evans is a litigator with McGuireWoods, a law firm with offices around the country and internationally. His legal career has been informed by his time in Haviland Hall: he is quick to point out that the creation of policy goes hand-in-hand with the provision of services, and the practice of law can make incremental changes in policies impacting children, families, and communities. "It was the experience that I had at UC Berkeley that helped me to understand that as a lawyer you could actually improve social welfare program implementation, and where necessary help to redesign and redirect social welfare programs that may be headed in the wrong direction, or may be unconstitutional, or unfair, or disproportionately administered."
His application of the law in the service of the social welfare marked his early career — he worked with the National Coalition for the Homeless — and is particularly visible in his pro bono work. Working for the Legal Defense Fund of the NAACP (founded by Thurgood Marshall), Evans represented a class of justice-involved youth in a lawsuit brought by the Black Probation Officers Association of Los Angeles County. Even though South Los Angeles was home to a significant number of juveniles involved with the probation system, resources were disproportionately allocated to other areas of the county. Evans knew from his second-year field placement with San Francisco's Youth Guidance Center how high the stakes were for these youth, and knew the potential impact of them receiving appropriate resources. The Black Probation Officers Association was joined in the lawsuit by a number of South Los Angeles churches, and Evans successfully litigated for a more equitable distribution of resources.
In another civil rights case, Evans brought a lawsuit under the Fair Housing Act in an area called Nobles Ranch in the Coachella Valley. When the expansion of a local mall was approved and the local government began efforts to purchase homes, Evans made the case that the proposed expansion would disproportionately displace residents of Black neighborhoods, depriving them of housing in an unconstitutional violation of civil rights. The case was eventually settled under a federal consent decree.
This work on behalf of the NAACP Legal Defense Fund eventually earned him a place on their board — an honor he shares with President Barack Obama and former Attorney General Eric Holder. Like Evans, President Barack Obama was a cooperating attorney for LDF. He also serves on the board of the Constitutional Rights Foundation, the YMCA of San Francisco, Catholic Charities of Los Angeles and the Mexican American Legal Defense and Educational Fund Property Management Board, among other organizations.
While pro bono work is an important part of his practice, Evans also approaches other aspects of his practice with an eye towards the public good. One of his recent cases involved a Superfund site in Montana, where he helped a copper mining company recoup a portion of its environmental cleanup costs from a prior owner of the site. Evans contends that "environmental laws are very much about the social welfare: the setting of levels for lead, arsenic, cadmium, and other harmful substances is important to the social welfare because it affects our health... If a kid is drinking water that's got lead that exceeds the maximum contaminant levels by tenfold, no matter how much you do for the kid in school, there are going to be cognitive issues created by the exposure to those harmful contaminants."
Greg is not the only member of his family with an MSW. Once he and his brother had completed their educations, it was time for them to help put their mom through school. After a 30-year career with the City of Los Angeles Department of Water and Power, she got a bachelor's degree, then earned her MSW at UCLA, then went on to become an LCSW working in pediatric oncology at Kaiser.
This coming year, Greg Evans will be adding another board affiliation: he will join the Dean's Advisory Board at Berkeley Social Welfare. His expertise and perspective will be an asset to the School.