Alum Joseph Perales has been awarded the Heart of Social Work Award from the North American Network of Field Educators and Directors as well as the Field Instructor of the Year Award from the School of Social Welfare. Director of Field Education Greg Merrill nominated him for both awards.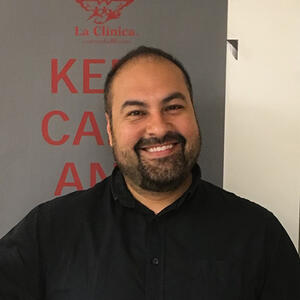 After receiving his MSW in 2008, Joseph was a practicing social worker for several years, then earned his practicing Doctorate in Public Health (DrPH) and assumed the Clinical Director role at La Clínica de La Raza. For the last 10 years, Dr. Perales has served as an exceptional field instructor and training coordinator to an annual cohort of four to five MSW students. Heather Ladov, his colleague at La Clínica, remarks "The students are everything to him, and it shows."
Dr. Perales has also partnered closely with Berkeley Social Welfare to design and implement the La Clínica Behavioral Health Training Center. Affiliated with nine different professional schools in our region, the training center emphasizes the knowledge and skills required for culturally responsive, evidence-based, recovery-oriented, and trauma-informed practice in Latinx communities.
In addition, he partnered with Berkeley Social Welfare on two different Health Resources and Services Administration (HRSA) grants related to workforce development. San Francisco Bay Area IBH Stipend Program students placed in integrated care settings receive a $10,000 stipend while completing their advanced placement. He also helped secure funding for the Latinx Center of Excellence in Behavioral Health, which provides a number of resources to help address the shortage of Spanish-speaking social workers, including stipends to students who are of Latinx descent and are committed to providing behavioral health services to Latinx communities.
In his nomination letter for the award, Greg Merrill described Joseph as "more than the sum of his accomplishments. He is an extremely generous, humble, and kind collaborator who also happens to be intellectually brilliant and spiritually grounded."
We are proud to have so many excellent, dedicated field instructors in our program, and we offer our warmest congratulations to Dr. Perales.