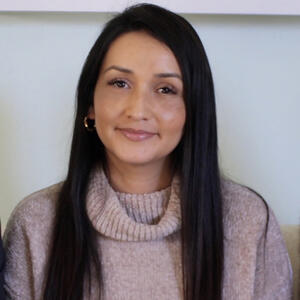 We are proud to share the news that Daniela Medina (MSW '21) was honored last week by State Senator Nancy Skinner's office. Medina received the Women in California Leadership Scholarship. 
Currently a second-year MSW student, Daniela also earned her BASW from Berkeley. Daniela's field placement this year is with the Berkeley Underground Scholars  program, which supports the needs of currently and formerly incarcerated students, aiming to build a "prison-to-school pipeline" through recruitment, retention, and advocacy. 
Daniela has been affiliated with the Underground Scholars since she came to Berkeley as a transfer student. In a recent Perspective on KQED, she talked about the power of the Underground Scholars for formerly incarcerated and justice-involved students. "The program allowed me to see others who like myself, had followed extremely non-traditional paths to higher education. I always knew I was smart and capable from the time I picked up a book. But it took this program to see that a fancy UC education isn't just for "other" people. Now I'm a mentor to others seeking similar paths." 
Daniela has earned a number of honors in her time here. She is currently an LCOEBH scholar. In addition, she has been a Young Professionals of Color Fellow with the National Institute for Criminal Justice Reform, a Perez Research Fellow at Bright Research Group, and a Neighborhood Accountability Board Member in the city of Oakland.
Senator Skinner praised the hard work, resilience, and determination of Medina and her fellow scholarship recipients Marciela Rodrigues and Shani Shay, commenting that "education can be the ticket" to moving past the barriers faced by system-involved people.
Founded by the California Legislative Women's Caucus, the Women in California Leadership Scholarship was established with the purpose of "empowering women and enhancing the lives of women and girls" and is open to women across the state who are pursuing higher education. 
Daniela's work on behalf of under-resourced communities embodies social welfare values, and her perseverance in pursuit of her goals is an example for us all.
Senator Skinner's presentation of the award starts at the 44-minute mark of the video below and is followed by Daniela's remarks.