Sunday, November 3, 2019 marked the induction ceremony for the California Social Work Hall of Distinction, which recognizes individuals who have made outstanding contributions to social work and social welfare in California.
It is a testament to the reach of our program that each of this year's Hall of Distinction inductees had a connection to Berkeley Social Welfare, either as a graduate or as a faculty member:
Salvador E. Alvarez (MSW '67)
Peter Breen, Field Instructor Emeritus
Benjamin Cuellar (MSW '72)
Jewelle Taylor Gibbs (MSW '70, PhD '80), Professor Emerita
James Midgely, Professor of the Graduate School and Dean Emeritus
Linda Wang (BASW '65)
Dr. Gibbs, the first African American professor named to an endowed chair in the UC system, was honored for her groundbreaking work on the experiences of children of color, most notably her books Young, Black and Male in America: an Endangered Species (1988) and Children of Color: Psychological Interventions with Minority Youth (1989). She was also lauded for her work on UC Berkeley's Committee on the Status of Women and Minorities, which was instrumental in identifying obstacles to the recruitment and retention of a diverse faculty at Cal.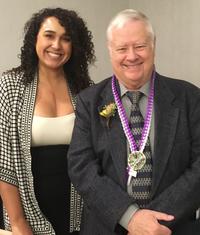 Dr. Midgely, who served as Dean of Berkeley Social Welfare from 1997 to 2005, was honored for his leadership of Berkeley Social Welfare, especially an increased emphasis on international social work and a strengthening of the Field Education program. He was also recognized for his role in developing the 2004 Master Plan for Social Work Education in California.
The California Social Work Hall of Distinction operates under the auspices of the California Social Welfare Archives (CSWA) at USC's Suzanne Dworak-Peck School of Social Work.
A link to video and additional photos will be added once it becomes available.