Every year, the School of Social Welfare recognizes a few of its most steadfast supporters. These awards are usually given out in person at the annual Dean's Circle Dinner, but in-person recognition was not possible this year and we are honoring the recipients virtually.
Loyalty Award
The loyalty award acknowledges a long tradition of financial support of Berkeley Social Welfare's mission and programs, but recipients are typically generous with their time as well.
This year's honorees, Peter and Cynthia Hecker, are loyal supporters in every sense of the word. Cynthia earned her MSW and her C.EPP in 2005. Peter is also a Berkeley alum; he earned his J.D. in 1973. Not only are they faithful donors, but they are active volunteers, serving on the Dean's Alumni Advisory Board and opening their home for alumni events. We are fortunate to have them in our community.
Service Award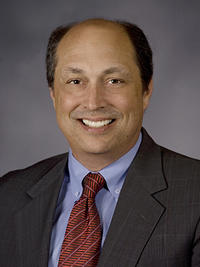 The service award honors those who go above and beyond in volunteering on behalf of Berkeley Social Welfare or vulnerable populations. This year's recipient, David Lindeman (MSW '80 DSW '87), continually volunteers his time on the School's behalf. As an active member of the Aging Services Advisory Committee, he takes a leading role in organizing events and keeping alumni connected to the School. He has hosted events in his home and moderated online events sponsored by the school; he is also a member of the Dean's Alumni Advisory Board. As Director Health at the Center for Information Technology Research in the Interest of Society (CITRIS), UC Berkeley, and Director of the Center for Technology and Aging (CTA), David's work focuses on technology-enabled solutions for issues related to aging, contributing to better options for older adults.