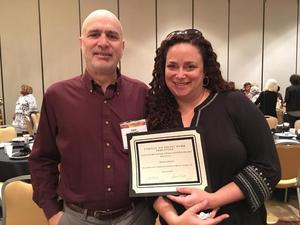 Berkeley Social Welfare Field Consultants Christina Feliciana and Robert Ayasse were each honored at the 2016 Council Work on Social Work Education Annual Program Meeting in Atlanta.
Feliciana received the Excellence in Mentorship Award from the Council on Social Work Education's Women's Council, and Ayasse was presented with the prize for Excellence in Field Education Scholarship.
Director of Field Education Greg Merrill notes, "All who know Christina know what a fabulous mentor, human being, and social worker she is" and that "Robert consistently builds and shared knowledge about how to promote professional competency in our classrooms and in field placements."