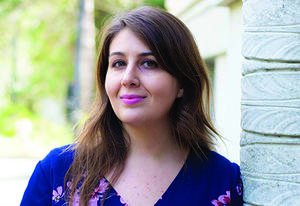 The journey to success is rarely a smooth and linear path. For UC Berkeley School of Social Welfare undergraduate Begonia Herbert-Ramirez, the path to becoming a University Medal nominee with a 4.0 GPA was particularly trying. Through the ups and downs, however, were two things that kept her going.
The first was her intellectual curiosity. "I always felt connected to education," says Herbert-Ramirez. Her passion for learning was so strong that she enrolled at Berkeley Community College -- despite being homeless, and ill.
Herbert-Ramirez became homeless when she was 18. Although not originally from Berkeley, she eventually found herself here. She lived on the streets for two years. The following years would be difficult. It took Herbert-Ramirez a couple of years to regain her health and self-esteem, and a few more to complete the coursework at BCC necessary to transfer to UC Berkeley, after dropping out two or three times. "It's hard to talk about," she confesses. "I didn't really have a good life... that's probably the best way to put it."
What is easy for Herbert-Ramirez to talk about nearly a decade later (and equally thrilling to listen to) is her exciting transition to UCB, and her subsequent academic interests. "I took a health psychology class as part of the Transfer Edge program, and I just remember sitting in the Life Sciences building in one of those old classrooms. It had this amazing historical feel and I thought, 'what crazy-smart people have sat in this seat before me?' A lot of transfer students described this 'not-fitting-in' feeling, but I felt the opposite. I felt like for the first time, I really fit in somewhere.
While Herbert-Ramirez was enjoying the feeling of fitting in, she stood out to others, particularly to Professor Jill Berrick. "Begonia participated in SW 110 last year where she quickly stood out among a group of 50 students as one of the strongest. She was mild-mannered in my class and relatively quiet, but when she engaged in the discussion at hand the other students paid close attention. Her critical analysis of the issues was so very sophisticated, and her understanding of the complexity of social problems (and the path to their amelioration) was nuanced."
Herbert-Ramirez has benefited from Berrick's mentorship, and cites her as vital factor in her professional achievements. "Jill is so incredibly kind and warm and you know, without her encouragement, I wouldn't have even applied for the University Medal." The University Medal is the award given each year to the graduating senior who best embodies the highest ideals of UC Berkeley. One of the reasons Berrick encouraged Herbert-Ramirez to apply for the University Medal lies in how she allows her personal experiences to inform her understanding of complex social problems without letting it overshadow her perspective; her process for building her structure of knowledge remains fluid and open.
"Having experienced her own personal turbulence with family and community during her adolescent years, you might think her view of social problems would be one-dimensional. 'I experienced this, so everyone who experiences this deserves a strong social response.' But no. Begonia's views were multi-dimensional as she attempted to tease out the meaning of what we refer to as social problems, and the importance of what we mean by a social response. What does it mean to be deserving? What are the limits of eligibility? What are the responsibilities of individuals, families, and communities, and what is the responsibility of the state?
It's this determination to understand every angle of any given social situation that led Herbert-Ramirez to her newest passions: neuroscience and psychology, close and relevant cousins of social work. She gushes about her human emotions course: "The brain is the most complex organ — it's just so intricate. I was listening to one of my lecturers, Dr. Dacher Keltner, in my human emotion class, and we're talking about how oxytocin works, and the amygdala. This is stuff I've learned about before, but I still couldn't tear myself away."
The second thing that kept Herbert-Ramirez fighting? The same thing that brought her to the School of Social Welfare in the first place: a compassionate and effective social worker. "There's a social worker who helped me get off the streets and find housing and go back to school. I had PTSD and she helped me work through the trauma. And she was just amazing. At that point, there was no one who had looked at me and stuck with me through hard things, who saw so much potential in me, and really helped me to see how much power I had. I think a lot of people would have given up on me and to see all that I have become because someone wanted to help me — I think that's a very powerful thing."
Herbert-Ramirez's involvement in the psychology department with Dr. Sheri Johnson as a research assistant has aligned well with her social welfare coursework in moving her toward her professional goals. One of her recent projects, for example, involved taking the lead on conducting analyses of participants' daily mood fluctuations. The participants were primarily homeless youth and other populations who were struggling with self-harm, suicide and aggression. Participant data was collected via wrist monitor, which measures skin conductance, an indicator of physiological arousal. The wrist monitor allowed the research team to observe participants in their authentic environment. The ultimate purpose of the study was to see if researchers could observe physiological changes occurring as participants made progress in the treatment; in other words, to see if the arousal data matched self-reported improvement. This allows researchers to help identify and target mechanisms of change. "I like having a social welfare background, because I think it encourages me to focus on populations that might not be studied, such as the homeless, and to remember that everything is happening in someone's environment."
Herbert-Ramirez's hope is to land a program coordinator position, gain exposure presenting research, and pursue a PhD studying neurocognitive mechanisms related to trauma and mood regulation.
In the meantime, Herbert-Ramirez is busy finishing her coursework, preparing for graduation, and applying to conferences and jobs. Still, she finds the time to feel gratitude and awe for the educational institution which has helped foster her academic and real-world pursuits. "I still walk around the campus every day and think, 'wow, this is such a beautiful campus and it feels so cool to be here.' I walked past people today hanging out on the Memorial Glade lawn, enjoying the sunshine. I'm twenty-seven, so we might assume that I'm over the college scene. But I love it. There's nothing like it."
Berrick, meanwhile, is grateful for the intellectual diversity that students like Herbert-Ramirez bring to the Berkeley's campus. "I always smiled when Begonia raised her hand in class. It meant that she was going to take my idea to the next level and draw the other students along with her. It meant that I would invariably learn something along the way, too. That is the essence of a university classroom experience. That is Berkeley at its finest."