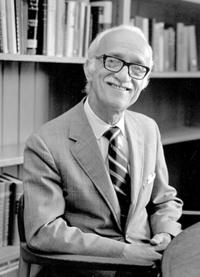 On September 17, 1987, Professor and Dean Emeritus Milton Chernin died in Berkeley of a heart attack, ending one of the longest and most productive careers in the University. Chernin was a major figure on the Berkeley campus, having been associated with it for almost 60 years. Officially retired in 1977, he remained active as president of the Faculty Club and as secretary of the Berkeley Academic Senate and of the Northern Division of the Academic Assembly. He was working as usual on the morning of the day he died.
Chernin was born on March 9, 1910, in Chasniki, Russia, and was brought to the U.S. in infancy when his parents settled in Canonsville, N.Y. As the youngest and only male among the five children of Max and Pearl Chernin, he occupied a special place in a closely-knit Jewish family. He completed Canonsville Elementary School and Deposit High School in New York by age 15. In 1925 he enrolled in Columbia University. When his family moved to California, he transferred as a sophomore to UCLA, where he earned a BA and a Phi Beta Kappa Key.
In 1929 Chernin came to UC Berkeley as the George Douglass Fellow in Political Science and received the MA in 1930. Then he began doctoral studies in Public Administration under the late Professor Samuel C. May. He combined studies with employment at the California State Relief Administration and then at UC Berkeley's Bureau of Public Administration (BPA), predecessor of the Institute of Governmental Studies.
After receiving the PhD in 1937, Chernin continued as a research associate at the BPA. There he co-authored several monographs on California's correctional institutions. With Professor May he also taught a joint seminar on the "Administration of Criminal Justice" in the Political Science Department. These activities earned him a reputation as an expert on the correctional system. In 1940 Chernin was appointed Assistant Professor in the newly formed Department of Social Welfare to develop a program of research and training in the field of corrections.
When the US entered the war, Chernin went on leave to Washington to work in the Board of Economic Warfare and next in the Office of Foreign Relief. In 1943 he was inducted into the Army and assigned to the American Military Government in Europe, where he assisted in the de-Nazification program and in the reorganization of the German police system. He rose from private to first lieutenant and earned the Legion of Merit.
In 1946 Chernin returned to UC Berkeley and a promotion to associate professor. During his absence a School of Social Welfare had been established. Then-President Robert G. Sproul appointed him the school's acting dean and chairman of a search committee to recommend a permanent dean. Most impressed by the professional character of the search committee's report, Sproul appointed the committee's chairman as the School's new dean. In 1947 the job and the man found each other.
The School of Social Welfare was Chernin's magnum opus. When he became dean, it was an infant enterprise. He laid the foundations on which was built a leading center for instruction and research in social welfare and social work. First he solidified the curriculum leading to the MSW, the practitioner's degree. In recognition for this, in 1957 he received the Koshland Award from the California Conference of Social Work. Next he turned to the establishment in 1960 of the school's doctoral program, intended to produce the teachers and researchers for the profession. Under his deanship the school granted almost 3,000 master's and 78 doctor's degrees. Its alumni serve in universities, social agencies, and government bureaus around the world.
For the school, Chernin recruited a faculty of superior quality. Believing that social welfare policy and social work practice must be grounded in the basic social sciences, he sought faculty members knowledgeable in these disciplines. He had an uncanny nose for talent and refused to relax his standards of academic excellence. He respected good scholarship and created a climate wherein it could flourish. Chernin was a hard taskmaster, but also farsighted and fair. Accordingly, he was reappointed dean five times. When he retired in 1977, he had served 30 years, longer than any professional school dean at UC Berkeley. The retirement dinner in his honor attracted 400 admirers. His will named the school the recipient of a generous bequest.
Chernin's commitment to the School of Social Welfare was matched only by his love for the Berkeley campus. He considered it his Promised Land, and he gave himself completely to it. As dean, he served under four University presidents and five Berkeley chancellors, who called on him repeatedly to undertake a variety of tasks. These he performed willingly and efficiently.
Chernin served as a member of the Graduate Council (1948-53), as acting director of the B.P.A. (1955-58), and as academic assistant to then-Chancellor Glenn Seaborg (1958-60). At various times during the 1960s and 1970s he sat on the advisory committees of five professional schools and four research centers. Chernin entertained the highest regard for our Academic Senate, having been elected to its Committee on Committees for six two-year terms. In all, he accumulated service on nine Senate committees for an aggregate of forty years. From 1980 until his death, he served with distinction as the secretary of the Berkeley Division.
Chernin was President of The Faculty Club at Berkeley for eleven years. Again, the man fitted the job. Hardly a day passed that he was not in the club. Under his leadership, the club's finances were significantly improved and the collegial atmosphere became more inviting.
Chernin was the good citizen without whose volunteer efforts ours would not be a university. This was acknowledged during the 1977 Charter Day Exercises when then-Berkeley Chancellor Albert Bowker honored Chernin with the Berkeley Citation, UCB's highest award, "for notable service to the University."
Chernin never lost the common touch. He relished contact with students and staff. Throughout his deanship he taught the undergraduate basic course in social welfare, attracting many a recruit to the profession. He carried a full load of advisees and served readily on oral examination and dissertation committees. At various times he was on the advisory boards of the University YMCA, Student Cooperative Association, and Student Union, as well as the Friends of Berkeley Hillel. He was in constant demand as a speaker at student functions: graduation breakfasts, initiation dinners, and orientation meetings.
Chernin was known throughout California for his efforts on behalf of social welfare on the state level. During 1963-67 he was a member of the State Welfare Board, the body advisory to then-Governor Edmund (Pat) Brown. Over the decades he served on a series of gubernatorial study commissions and of committees advisory to various state government units. He testified periodically before the California State Legislative Assembly on proposed social welfare legislation. He was also active in several statewide social work professional organizations, serving for a time on the board of directors of the California Conference on Social Welfare. He was one of the California delegates to two White House Conferences — on children and youth (1951) and on aging (1961).
Chernin's perspective was international. During 1957-58 he was on the faculty of the School of Administrative Sciences, University of Bologna, Italy. He spent the summer of 1962 as a member of an American team of consultants to the Egyptian Ministry of Planning. He spent the fall of 1968 at the U.N.'s Institute in Social Development in Geneva, Switzerland. Between 1966 and 1974 he was on the Policy Committee that oversaw the University of California-University of Chile (Convenio) Exchange Program and made frequent trips to Santiago, Chile. In 1971 he traveled to New Delhi, India, to review our University's Inter-Professional Schools Educational Project.
Simultaneously with his wide ranging activities, Chernin always maintained a close interest in local civic affairs. He devoted time and energy to the work of the Association of Bay Area Governments, the Bay Area Welfare Planning Council, the San Francisco Foundation, the Alameda County Health Department, and the Oakland Family Service. He was on the board of directors of the United Bay Area Crusade, and supervised some of its Berkeley campus campaigns. In retirement he became a regent of the John F. Kennedy University in Orinda, Calif.
Although not a religious man, Chernin identified strongly with his Jewish heritage. He, therefore, provided leadership to the local Jewish community. For years he served on the committees of the Jewish Welfare Federation and was an active worker in the annual Federation UC faculty campaigns. He was a member of the Advisory Committee of the Home for Aged Jewish Parents of Oakland, and a trustee of the Berkeley/Richmond Jewish Community Center.
Because of his long service to the University, Chernin became a persona, a presence, on the Berkeley campus. Although a towering figure academically, he was physically diminutive. But he had a dynamic personality that drew people to him. And for one his size, he possessed a surprisingly stentorian voice. He was an optimistic person with a zest for living and with an irrepressible sense of humor.
Despite his many accomplishments, Chernin remained a modest man, tending to minimize his own importance. "Nobody is missed for long," he used to say. Self-disparagement was one of his engaging traits. Personal warmth was another. He reached out constantly to people. He was genuine, lacking in guile, and his openness encouraged others to respond to him in kind.
In 1935, while studying for his doctorate, Chernin married fellow student Gertrude Chemnick of San Francisco (AB Economics, 1934; Certificate in Social Service, 1936). Theirs was an unusually happy marriage. Each was devoted to the other. In his later years Chernin was the patriarch of the Chernin-Chemnick extended family. Since the Chernins had no children of their own, he assumed the role of grand-uncle who presided over family reunions. In 1986 the death of Gertrude ended a marriage of a half century. In addition, two sisters of Chernin also predeceased him. When he died, Chernin left behind two sisters (Rose Kusnitz of Los Angeles and Lillian Doran of Pacific Palisades), six nephews, three nieces and innumerable admirers and friends.