Ronald Maloney (MSW '80) explores his journey from a North Carolina orphanage to a social work career in Powerhouse Road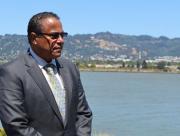 Since he was seven years old, Ronald D. Maloney (MSW '80) has been aware of social services and the role of social workers.
It was at that tender age that a representative from North Carolina's Burke County Department of Social Services picked him up from his rural home to take him to an institutional care facility, which became his permanent address for the next 16 years. As a biracial child being raised by his white mother and her family in the 1950s South, Maloney was denied entry into schools in his hometown of Glen Alpine, N.C., leaving his mother little choice but to enroll him in the Colored Orphanage of North Carolina  – a decision that gave her son access to a formal education.
Maloney's journey from his maternal home to the Colored Orphanage, later renamed Central Children's Home, would eventually lead him to North Carolina Central University, where he abandoned his original plan to pursue an English degree for one in social work. Drafted by the United States Army during his sophomore year, Maloney earned his Associate of Arts degree from the University of Maryland-European Division while completing his military service in Germany. He went on to finish his undergraduate degree in social work at North Carolina State University, Raleigh, as well as his MSW at the UC Berkeley School of Social Welfare.
"I had wanted to go to USC or UCLA because of their sports programs," says Maloney of his initial choices for graduate school. "But then I saw that Berkeley had the number one program in social welfare, so I knew that's where I had to go."
Maloney drove across country with whatever belongings he could fit in his army duffle bag to start his new life in the Bay Area, a place where he remains to this day. He explains that he knew he was definitely no longer in North Carolina when he spotted "a guy with dreads" while coming up University Avenue to the campus. "Oh, I am at UC Berkeley now!" he remembers thinking.
Also among his earliest memories was the very first School of Social Welfare orientation he attended in Berkeley's famous Rose Garden, complete with wine and cheese.
"I'll never forget when an older man came up and asked me, 'How does it feel to be at UC Berkeley?'" recalls Maloney. "I didn't know who he was, but I figured it had to be somebody important – and it was. It was Dean Specht. He said to call him Harry."
"When Harry asked me that question, I answered, 'Do you want me to tell you how I really feel or what I think you want to hear?' He said he wanted to hear my real feelings, and I said, 'I feel academically inferior because all these people around me are coming from big-name and Ivy League schools.'"
Maloney continues, "What shocked me from our exchange is that I learned that Harry actually was involved in reading the applications. I learned that because he said to me, 'You grew up in an orphanage, you saw a black person for the first time when you were seven years old, and you have all these recommendation letters. Apparently, you don't know your value – and as social workers, that's the problem. We don't always know our value. You bring more to the school than you'll ever know.' In hindsight, Dean Specht was right. He was telling me in so many words that life experience transcends."
Those words and their meaning are something that Maloney says he has carried along with him throughout his three decades of social work service in various behavioral healthcare settings, including his current professional role in a major trauma center in Alameda County.
"Over my career, I've worked with the elderly, parolees and in HIV services," he explains. "I've covered a whole gamut of services. Now in my critical care team, I tell everybody, 'We may not be doctors or nurses, but we save lives.' Social workers are like sponges. All day we soak up different emotions. Getting back to what Harry Specht said, we might not always see our value but our work helps save lives."
Maloney recently decided to document his long journey as "both a victim as well as a beneficiary of the child welfare system," in a memoir entitled Powerhouse Road In addition to allowing him to explore the complicated emotions and memories related to his childhood and his mother, who passed away in 1986, Maloney says the book provides both a personal history that he can share with his son David as well as a tool that "opens the whole discussion about what happens to biracial kids."
Starting in the fall, Maloney's autobiographical work will become part of the reading curriculum in half-a-dozen schools on the East Coast.  Maloney also is currently scheduling a lecture circuit which he says will "incorporate the evolution of the child welfare system and tie in [his] own personal experiences" as part of the presentations.
Click here for more information about Ronald Maloney and his memoir, Powerhouse Road.