Niels Tangherlini (BA '99) works to improve homeless outreach in San Francisco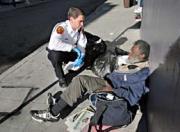 Niels Tangherlini (BA '99) is an example of the impact that one person can make when determined to fill an unmet need in the community. Niels is a paramedic captain for the San Francisco Fire Department. Working with high-need populations for a decade, Niels saw countless cases of individuals who turned to the 911 system over and over again, going in and out of crowded emergency rooms with no real solution to their suffering.
One such case that touched Tangherlini deeply was a homeless man who had been a political science professor until alcoholism destroyed his career, family and home. Tangherlini recalls picking him up, taking him to the hospital, and then doing it again, watching him progressively lose his ability to remember things or speak clearly, until one day the poor man died on the streets with no one to mourn his passing.  Tangherlini realized that what this man and many others like him needed was some type of real intervention, rather than a costly and ineffective revolving door into the emergency room. This would also help to prevent the frustration and burn out that so many paramedics face on a daily basis.
Tangherlini decided to go back to school to get his degree in social work at UC Berkeley. With the mentoring of Berkeley Social Welfare faculty, Niels used his thesis to develop his concept into an outline of a program. After he got his degree, Tangherlini was promoted to captain. As he puts it, "it is one thing to have a great idea and even to research and write about it, but it is another to convince policy makers to enact it." But that's exactly what he did. "It took me four years, three fire chiefs and two mayors to finally have the opportunity to create my pilot program in 2004," he said. According to a January 2007 article in the San Francisco Chronicle, Tangherlini convinced these city officials that what a chronic inebriate, drug addict or mentally ill person often needs is not "an ambulance or fire truck, but a van with a paramedic and a social worker."
Today, Tangherlini is the director of the Homeless Outreach and Medical Emergency Team (HOME), which has helped thousands of high-risk individuals get off the streets and into long-term care, while saving the city thousands of dollars in expensive ambulance rides and emergency room visits. By pairing the EMT paramedic with a social worker, street people in San Francisco served by the program are assigned a case manager and are referred to the substance abuse treatment, medical care, and the supportive housing they need to turn their lives around.  According to CBS news, two years after the program was created there were one-third less calls to 911, thanks to this innovative initiative. By diverting non-emergency calls to the HOME program, those facing life-threatening emergencies could get the prompt response they need. The HOME Team model has been adopted by other fire departments, whose staff members often call Tangherlini for advice.
As a speaker at the Berkeley Social Welfare student-led Social Justice Symposium, Tangherlini shared with the audience how he was able to save his program from the City's latest round of budget cuts by constantly communicating with key staff from the three agencies that participate in this collaboration — the SF Department of Health and Human Services, the Department of Public Health and the Fire Department. Whenever he starts to feel worn out, Tangherlini remembers the homeless professor, and why he is doing this important work. His final words to his fellow social workers: "Never give up." Additionally, in recognition of his contributions to his community, Tangherlini received the San Francisco Chronicle's Jefferson Award, and Berkeley Social Welfare's Distinguished Alumnus Award.