Julie Miller (MSW '12) explores fulfilling and meaningful aging in documentary film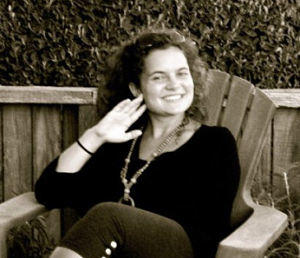 Julie Miller (MSW '12) first decided to enter the field of social work to help improve the quality of life for vulnerable individuals by linking them with resources, services and opportunities as well as to promote social justice through advocacy and community organization.  She also retains a very unique perspective of her chosen profession. "One of the parts I love about social work is that I'm able to act as a witness and documentarian," she says. "I can hold a space for someone else and hopefully relay their stories in a way that will make a difference."
This realization solidified in Miller's mind in the summer of 2011 when she embarked on her first-ever filmmaking project. While visiting her grandparents in Connecticut, Miller approached a local senior center with the idea of introducing a curriculum loosely based on the "Eden Alternative" model, which focuses, in part, on decreasing loneliness, boredom and helplessness in older adults.  Familiar with a similar cooperative games-based curriculum from her previous experiences working with youth living in areas with high homicide rates, Miller modified the program to fit the needs of a senior population. Part of her project was to document, visually, the implementation of the curriculum among her pilot group of 20 people. "From this came the idea of 'vibrant aging' and what that means," she explains. "We interviewed 15 seniors about their perceptions of this term."
The impetus for her work with the Elmwood Senior Center and the subject of her documentary was what might be expected of a social justice advocate – a driving need to make a difference for "a fairly invisible population." "What I was seeing when going into senior and residential centers was really a depressing scenario," explains Miller. "Of course every situation is different, but I asked, 'What would I personally do? What would I do differently?'"
The answer came in the form of her innovative four-week curriculum entitled, "Breaking the Ice, Deepening Connections and Building Vibrant Communities." The resulting documentary of the project, "Vibrant Aging," is a 15-minute length film culled from 25 hours of original footage, largely shot by Miller herself. Her on-the-spot camera training along with tutorials on Final Cut Pro film editing were courtesy of West Hartford Community Television, which also provided a staff person for one hour each week to film Miller facilitating her group.
"The people who participated were just amazing," says Miller. "These are wonderful snippets of people's stories."
Upon completing the documentary, Miller had the opportunity to screen it at the Elmwood Center and to the subjects of the film, who were not only impressed, but held the film "sacred" for its willingness to explore "the idea that we can age not just well or 'graciously,' but vibrantly," she explains.
For Miller, this very concept is what guided decision to enter the gerontology concentration at the School of Social Welfare for her MSW degree. "I often consider why aging feels personal to me, and it is because I see my loved ones aging, I can see myself in 60 years," she says. "My grandparents are huge forces in my life, and I've been privileged to meet older adults who are my role models.
"I cannot tell you how many people, including my grandparents and older adults, continue to ask me, 'Why are you going into aging? It's so depressing!'" adds Miller. "I think a lot of people are scared of aging and its implications – and that's why I'm going into gerontology and why I made this film. I am really interested in contributing to a culture change around aging."
Having earned her undergraduate degree in American Sign Language and Human Services at Boston's Northeastern University with a focus on serving children with special needs, Miller also notes that the concept of aging, especially as it relates to death, is truly a trans-generational issue. "What our society is moving towards is a normalization of being able to talk about death, dying and grieving," she says. "This, of course, is where it becomes a whole family issue, and that's where there's so much cross-over with children."
Miller currently serves as a research associate at MIT's AgeLab, where she conducts qualitative research focused on aging and technology with an emphasis on interviewing and filming – skills she clearly honed during her filmmaking experience.  
As for the lasting implications of her doumentary, Miller hopes that it encourages viewers to start participating in a dialogue about what the concept of vibrant aging could open up for us as individuals, as caregivers of parents and grandparents and as members of our communities. "I don't know exactly what 'vibrant aging' means," she notes. "And that's why I keep asking.