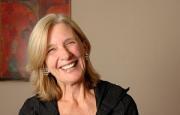 Alice M. Hines (MSW '86, PhD '93) has been a faculty member of San Jose State University's School of Social Work since 1995. In 2011, she was appointed as the interim associate dean of the College of Applied Sciences and Arts, the university largest college and has now assumed the position permanently.

In addition to her shifting role at SJSU, Dr. Hines is serving as principal investigator of an ambitious project that is significantly expanding social work education in Vietnam.

Known as the Social Work Education Enhancement Program, the initiative is comprised of an international consortium coordinated by San Jose State University that currently includes five Vietnamese universities, two local government ministries, community stakeholders and funder USAID, whose $2.5 million grant is being matched dollar-for-dollar by technology networks giant Cisco for a combined total of $5 million in project support.

Dr. Hines shared details about this exciting overseas development as well as future directions for SJSU's School of Social Work and her thoughts on her education at the Berkeley School of Social Welfare.

How did the San Jose State University School of Social Work first become active in Vietnam?
We started working in Vietnam four-and-a-half years ago. We have a very large Vietnamese community in San Jose, nearly 10 percent of the population, and so there are many Vietnamese students at the university and in social work. Our partnership started when one of our faculty, Professor Tuan Tran, who is originally from Vietnam, approached me and asked if  the school might be interested in doing something to help Vietnam develop social work. At that time, there was no social welfare infrastructure and very little in terms of social work education.

A delegation of four social work faculty met with Vietnam National University officials in Hanoi in June 2008. That was our first visit, and since then I have been to Vietnam 12 times. Eight San Jose State social work faculty have been to Vietnam to teach and consult. My next trip is in March.

What are some of Vietnam's most pressing social services needs?
More than half the population is under 25. There's a strong need to focus on youth and child welfare as well as on issues related to human trafficking. The School of Social Work in San Jose State has a strong child welfare faculty, whose contributions through research and explicating models of child welfare practice will be very important. There's also Vietnam's mass migration from rural areas to urban areas; that's another critical issue because people are fleeing rural areas to move into the cities, and there aren't enough jobs and housing.  That has an effect on families, which used to be the main source of support in Vietnamese society. Families are increasingly under stress because youth are moving to cities, often leaving young children and elderly family members behind in the rural areas.

There are also significant needs in the area of HIV/AIDS, and to address this, we're focusing on forging linkages between social work and the public health system in Vietnam. Certainly there are varying problems in different geographical areas of the country. Hue, for example, is one of the poorest areas. It's in the center of Vietnam, in a narrow strip of land that's located between the sea and the mountains, so there's very little industry there. There is a burgeoning tourism trade, but the area is often impacted by hurricanes, flooding and tidal surges, so the social and environmental conditions will surely influence the design and delivery of social services in that area. 

Which universities are you partnering with in the country?
We began our work with Vietnam National University, the leading university in Vietnam – we're working with their campuses in Hanoi and Ho Chi Minh City. We're also working with two other universities in Hanoi and Hue University, which, as mentioned, is in the center of Vietnam. They are mostly urban universities and in prime locations for developing social work. As we move forward with our project, we plan to include three more universities in the rural and highland areas in the south, the center and the north.

Please describe the role of the various partners in the Social Work Education Enhancement Program.
The project is led by San Jose State, but it is a consortium that includes social work constituents at all levels, enabling us to put effective systems in place. In addition to SJSU and the five Vietnamese universities, we're working with two very important government ministries in Vietnam – the Ministry of Labor, Invalids and Social Affairs, which is Vietnam's equivalent to Health and Human Services and is the agency that oversees social work in the country – and also the Ministry of Education Training. Those two ministries have been very involved in the project from the beginning. As we move forward, the intent is to transfer leadership from SJSU to the Vietnamese universities so that they will be able to sustain the systems put in place. SJSU is very mindful that the project is responsive to the cultural needs and concerns of Vietnam, and so we have designed the project to be as interactive and collaborative as possible every step of the way. 

Cisco is also, of course, a very exciting part of this project. Because Cisco is a worldwide leader in technologies and equipment for networking, we plan to create networks between and among our university partners in Vietnam, similar to what we have here with CalSWEC in California, where all the schools of social work are linked. The Vietnamese universities will also be linked to SJSU so that we can transfer information, training and communicate easily and frequently.

Since Vietnam is in its initial, nascent stage of developing social work, we want to introduce technology during this early period so that technology will be an integral part of the social service system as it is developed. In the United States, social work has had to catch up with technology and really adapt to its demands. Through the partnership with Cisco, the idea is to infuse technology with social work systems from the very beginning.

Is the SJSU School of Social Work considering expanding its efforts in international social work?
We are looking at developing a doctoral program in international social work with a focus on Asia. This is something that our university president is very interested in, and we feel will build on the strengths of the school and address the need, particularly in Southeast Asia for faculty trained at the doctoral level.

You were recently appointed as the associate dean of SJSU's College of Applied Sciences and Arts.
I was the director of the School of Social Work for more than six years, and in my current position still maintain a close relationship with the School. In addition to social work, there are nine other schools and departments in the College of Applied Sciences and Arts; what has been interesting and challenging for me is learning about and working with disciplines that are different but also integrated with social work. The college has a very strong interdisciplinary approach to teaching and research, and so it has really exciting to be part of creating those linkages.

Please share your thoughts about your alma mater, the Berkeley School of Social Welfare.
I am grateful for the education I received at Berkeley. One of the important things has been that at San Jose State, we have been able to attract faculty who have graduated from Berkeley. When I was the director at the School of Social Work, I hired seven faculty; nearly half of whom were from Berkeley.

I think the School of Social Work at San Jose State really stands out in the university and in the system because we have such an excellent faculty – exceptional teachers and scholars – who are able to make a difference locally and globally. Because of the excellent education the School of Social Welfare has provided, we have all been able to excel and hopefully make a difference in the world.