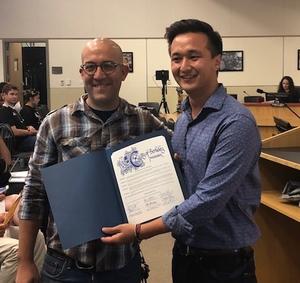 July 16, 2019 was declared Ari Neulight Day in the City of Berkeley in honor of Neulight's efforts to meet the needs of unhoused residents.
During yesterday's City Council meeeting, Neulight was presented with a city proclamation in recognition of his "tangible positive impact on the community," his "exemplary service as a campus liason and a resource for the most vulnerable members in our community," and his work as a "tireless advocate for the homeless population."
Ari Neulight assumed his role as Outreach Coordinator in July 2017 through a central campus initiative that was the brainchild of UC Berkeley Professor Emeritus of Architecture, special advisor on homelessness to Chancellor Carol Christ and former Berkeley Social Welfare Interim Dean Sam Davis. The first social worker on staff at the School of Social Welfare to work in direct service with the community, Neulight is tasked with the significant challenge of supporting the homeless population in and around People's Park by connecting them to needed services and resources. He also works as a liaison between the University and a range of other partners in addition to working with students on issues related to homelessness. Because Neulight is affiliated with the School of Social Welfare, he has also collaborated with faculty — including Greg Merrill, Eveline Chang, Tina Sacks, and Julian Chow — and students. (Read more about Ari's work in a 2018 Social Welfare at Berkeley magazine article.)
Berkeley Mayor Jesse Arreguín also took the opportunity to recognize Chancellor Christ for her commitment to work with the city in supporting its unhoused residents and connecting them to services.
We congratulate Ari on this achievement.