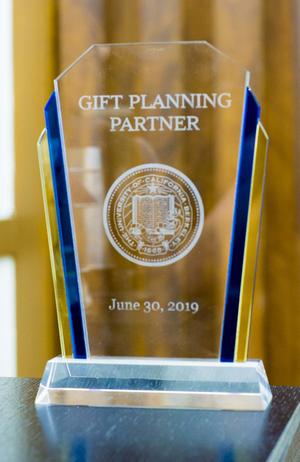 Veronica Alexander, Director of External Relations at Berkeley Social Welfare, was honored this week with a campus-wide award from Berkeley's Office of Gift Planning for initiating the most joint proposals for gifts to Berkeley Social Welfare as part of an estate plan. 
Explains Alexander,"When I sit down to talk with potential donors I always want to find the option that's going to be the best fit for them: how can they make the greatest difference in the programs they want to support? Planned giving is a very effective way for an average person to make a substantial contribution to a good cause; it lets donors balance their short-term financial needs with their long-term charitable goals."
Although bequest gifts (leaving assets in a will or trust) are the best-known form of planned giving, some gift options can provide significant tax benefits and even income to the donor during their lifetime. 
The School of Social Welfare wishes to thank those donors who have already become members of UC Berkeley's Benjamin Ide Wheeler Society by making a planned gift. Anyone with questions about planned giving can contact Veronica Alexander at valexander@berkeley.edu; more information is also available at planyourlegacy.berkeley.edu.