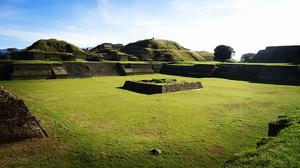 Coronavirus (COVID-19): 

The safety and well-being of our students is our top priority. 
Sin Fronteras Summer 2020 will be offered virtually
.

 Please contact swlatinx@berkeley.edu for more information.

The Sin Fronteras - Oaxaca Summer Program is a comprehensive and integrated learning program conducted in Oaxaca, Mexico as a service-learning course, SOC WEL 272: Health and Human Services in Mexico. The course is intended for Social Work students interested in deepening their understanding of effective and culturally responsive international social work practice. The program is open to all UC Berkeley Social Welfare graduate students, UC Berkeley graduate students from selected programs (Public Health, Public Policy, Ethnic Studies, Education), and San Francisco State University Social Welfare graduate students. Applicants must speak Spanish at an intermediate level to be considered.

While in Oaxaca, the students will:
Work with NGOs to find effective interventions to the many national and local social, economic and political problems, such as forced migration

Learn from local community experts regarding indigenous practices, methods, beliefs, and stories that relate to health and well-being

Refine Spanish language skills by taking an intensive language course

Gain a transnational perspective that will shape their approach to providing services to Latinx communities in the US
---
Sin Fronteras Application 
The Sin Fronteras-Oaxaca Summer Program 2020 application is now closed. 
For general questions about the application, please contact swlatinx@berkeley.edu.
---
Sin Fronteras LCOE Stipend Program
The Sin Fronteras LCOE stipend is intended to support Latinx students' training in culturally responsive social work practice with Latinx communities. This year, the LCOE will award about twelve $4,700 stipends to students participating in the Sin Fronteras Program. Applications for the Sin Fronteras and the Sin Fronteras LCOE Stipend are due by January 26, 2020. Awards are announced by the end of February.