First Year Scholars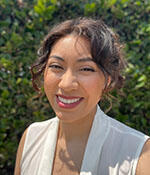 Diana Yvette Aguilar (she/her/ella) is a first- year MSW graduate student specializing in Advancing Health and Wellbeing across the Adult Lifespan ("A-WELL"). Diana is a first-generation graduate student born and raised in Santa Ana, California. She graduated from UCLA with a B.A. in Psychology with minors in Education and Chicanx Studies. Diana also holds a Master's in Educational Counseling from the University of Southern California which led her to work with adults in the California Community College system. After working with low-income, first generation, student athletes, and LGBTQIA+ Latinx college students, Diana discovered the need to elevate mental health in higher education settings. Diana is currently a Social Work Intern at COOP, an organization dedicated to overcoming underemployment through digital skills and peer connections. Diana is passionate about providing trauma-informed clinical services that are anti-oppressive, anti-racist, and strengths-based. As a future Licensed Clinical Social Worker, Diana hopes to provide direct bilingual behavioral health services to Latinx and other marginalized populations after receiving her MSW degree.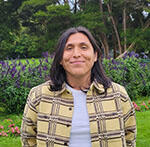 Fernando Antunez is a first-generation college student from Orange County, California. They are the youngest of six children (five surviving) to a mother from Guerrero, Mexico and a father from Morelos, Mexico. Fernando comes to this work after two years of case management in Los Angeles with the Immigrant Defenders Law Center. In that time, they worked with Central American youth seeking Asylum and Refugee status as well as adults living with mental health considerations deemed unfit to represent themselves in immigration court. After processing the devastation in their family following the passing of their mother, Margarita Hernandez, Fernando dedicated themselves to bolstering community-based systems of care for Latinx families experiencing grief. Beginning Fall 2021, they will be interning with Casa Del Sol, a community outpatient behavioral health clinic in Oakland. They are a first year MSW student in the Advancing Health and Wellbeing across the Adult Lifespan concentration.
Natalia Argüello is a first-year MSW student specializing in Strengthening, Children, Youth and Families. As a born-and-raised San Franciscan, her community is at the center of her work. Natalia seeks to deepen and expand her ongoing community work through the facilitation of community connections and webs of resources that support youth and families in accessing their own power and resiliency while navigating hostile institutions and systems. Natalia is particularly passionate about serving adolescents and transitional age youth, and plans to focus her training in the area of improving service delivery models of mental healthcare that cultivate community & draw upon culture. She is currently interning at a public elementary school in San Francisco. Natalia earned her BA in Political Science from UC Santa Barbara, where she conducted qualitative research focusing on Latinx political attitudes as well as sociological work into motherhood during adolescence. Since graduating, Natalia has returned to her community, supporting families in navigating the immigration system, organizing with her community to provide mutual aid, and serving as the Refugee and Immigrant Services Liaison & Community Health Outreach Worker at Visitacion Valley Elementary in San Francisco.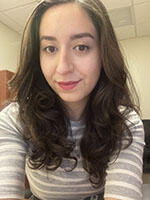 Annette Casillas is a first year MSW student in the Strengthening Children, Youth & Families concentration. She was born and raised in Southern California, and her parents immigrated without documents from the Mexican state of Jalisco before raising their four children in the US. Annette holds a bachelor's degree in English from Columbia University, where her interest in social justice work began. Her personal experiences living with mental illness led her to work in the mental health field, where she was able to use her experience as a tool to engage with children, youth, and adults struggling with mental health challenges. Her career goals are twofold: first, to work providing clinical therapy to children of Latinx immigrants and their families; second, to develop community programs geared toward outreach, education, and destigmatization that promote mental wellbeing and resilience in Latinx communities. She is pursuing both the Pupil Personnel Services credential and Social Work with Latinxs certificate through her internship placement at Safe Passages in Oakland. In her free time, Annette enjoys reading, writing, cooking, being in nature, and spending time with her fiancée Noah and their dog Charlie.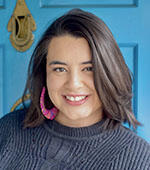 Alagia Justice Cirolia is a first-year MSW student in Strengthening Children, Youth, and Families. Alagia graduated from UC Berkeley with a BA in Cognitive Science after completing an undergraduate thesis with the support of the McNair Program. Concurrently, they worked directly to support children and families by implementing enrichment programming at the YMCA and The Berkeley School. They have spent the last three years as the Clinical Research Coordinator at the Child Trauma Research program, where they are collaborating on a project that compares outcomes of trauma interventions for young children among different community agencies. Alagia is currently pursuing their PPS credential as a member of the Student Intervention Team through the UCSF HEARTS program. Alagia hopes to bring their experiences as a first-generation student and multi-racial Chicanx, raised in the militarized border city of San Diego to support Latinx/POC students, to their work in mental health. Their efforts will support families in engaging with services and addressing trauma at the nexus of school-systems. Alagia also enjoys hiking Mt. Tam with their dog, reading science-fiction, and making spicy sauces.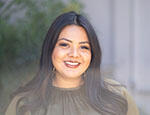 Nataly Del Cid is a first-generation and first year MSW student specializing in Advancing Health and Well-Being Across the Adult Lifespan. She was raised by a Mexican-Guatemalan family in Southeast Los Angeles. As an undergraduate student, She interned at residential mental health facilities in the East Bay and Accra, Ghana. After graduating with a BA in Psychology, she joined Rubicon Programs to provide social work services to low-income families and formerly-incarcerated community members seeking to break the cycle of poverty within their families. She looks forward to expanding her culturally-relevant and trauma-informed intervention method skills for the Latinx community at her field placement, Familias Unidas in Richmond. She is pursuing a License in Clinical Social Work (LCSW) to provide mental health services in community-based healing spaces that center communities of color's conceptualization of wellness and healing justice. She is currently working towards obtaining her massage therapy certification (CMT) and seeks to utilize her LCSW and CMT to integrate talk therapy with bodywork therapy into the holistic healing tools she can offer to these communities. Her goal is to help guide these communities in their journey of self-empowerment and healing to become agents of their own well-being and real systemic change.
Joanna Oyarzabal Mendez (she/her/ella) orgullosamente es hija de Ana Mendez y Saul Oyarzabal, quienes son su mayor inspiración. She is a first year MSW student in the Strengthening Children, Youth and Families concentration. A first generation college student and daughter of Mexican immigrants, she is passionate about advocating for and supporting BIPOC, immigrant and Spanish speaking communities. She's worked in the mental health field the past 6 years after graduating from UC Berkeley with a BA in Social Welfare/Political Science and an Education minor. Her unwavering commitment to social justice led her to continue supporting immigrant families impacted by forced family separation for her first year internship. As an Outreach Coordinator with the nonprofit Seneca, in the program Todo Por Mi Familia, Joanna will hold case management work by connecting immigrant families across the U.S. with mental health services and other resources. Joanna's goals include: to work with Latinx, Spanish speaking, immigrant communities as a licensed clinical social worker and to open a community space centering cooking/nutrition as a healing/empowering tool. Joanna ama la comida, la música, cocinar, bailar y viajar.
María Guadalupe Rangel is a first-year MSW student with a concentration in Strengthening Organizations and Communities. She was born and raised in Oxnard, California. She is a first-generation student and proud daughter of migrant farmworkers. María graduated from UC Davis with a BS in Biological Sciences with an emphasis in Neurobiology, Physiology, and Behavior. Prior to graduate school, she was working as an Integrated Behavioral Health Case Manager at La Clínica de la Raza where her responsibilities included working directly with medical doctors, social workers, and psychologists to develop and facilitate a care coordination plan that addresses the patient's holistic well-being within a primary care setting. She connected over 500 families to social services in Alameda County, including SNAP, WIC, CalWORKs, and substance abuse treatment. María will be completing her first-year placement at La Familia Counseling under the Director of Strategy and Program Development Department. Last but not least, during her spare time, you can catch María either on the dance floor dancing to salsa, on a stand-up paddle board, or at Lake Merritt jamming with locals!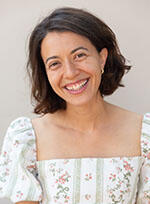 Lauren Silver is a first-year MSW student in the A-WELL concentration, and will spend the year interning with La Clínica's Casa del Sol in Fruitvale. She earned a Bachelor of Arts in the sociocultural anthropology from Scripps College. Her admiration for the breadth of the Latinx experience was deepened living in Valparaíso, Chile post graduation. After returning to California, she did street outreach for a housing justice collaborative in San Francisco's Mission District, connecting Spanish-speaking community members with tenant rights information and anti-gentrification campagins. Continuing her work with the immigrant community, she joined Canal Alliance, a Latinx-focused non-profit in the North Bay, where she faciliated Know-Your-Rights trainings, and as a DOJ-accredited representative supported clients with accessing humanitarian forms of immigration relief. During the pandemic, Lauren developed the organization's direct cash and rental assistance programming, designed for immigrant community members left out of other safety net supports. Being the daughter of lineages of migration and diaspora has shaped her heart-centered commitment to immigrant justice and excitement to become a behavioral health practitioner steeped in a practice that is culturally-responsive and trauma-informed.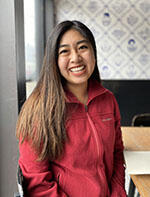 Helvia Taina is a first year MSW student in the Advancing Health and Well-being across the Adult Lifespan (AWELL) concentration. She is the biracial daughter of immigrants, one from Cusco, Peru and the other from Shanghai, China; this multicultural background has given her an appreciation for intersectional identities, especially the many ways one can be "Latine." Helvia graduated in 2017 with a B.S. in Human Biology from Stanford University, where she conducted original psychology research and specialized in cognitive development. She has spent the last three years in her hometown of San José, California, working at a grassroots organizing nonprofit on campaigns related to Latine voter outreach, U.S. census enumeration in hard-to-count communities, and case management of low-income San Joséans working on starting unionized careers in construction. Helvia aims to become a licensed clinical social worker (LCSW) who can help meet the need for bilingual mental health professionals in California. For her first-year field placement, Helvia will be working at Familias Unidas, a community mental health clinic in Richmond that primarily serves monolingual Spanish speakers. Outside of school, Helvia loves backpacking, trying new foods, swimming, and visiting family in East San José.
Second Year Scholars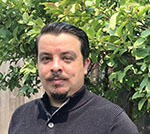 Luis Angel Alvarez is a second-year MSW graduate student specializing in Strengthening Children, Youth, and Families. Luis is a first-generation graduate student born and raised in Oakland, California, interested in providing holistic and culturally sensitive mental health services to underserved minority populations in his community. He graduated from California State University, East Bay, with his undergraduate degree in psychology. After graduating from CSUEB, Luis begain working as a Registered Behavior Technician with children that have autism. Shortly after, Luis attended Mills College, receiving a Masters degree in Infant Mental Health. Luis was at Safe Passages for his first-year placement, where he provided support services to transitional-aged youth on probation and at-risk students. Luis will be at Casa del Sol for his second-year placement, where he hopes to provide culturally informed outpatient clinical services to children, adolescents, and adults with various diagnoses. He hopes that his time with Safe Passages, experience navigating telehealth, Casa del Sol, and continued education will help shape his capacity to support and assist individuals in his community. Luis enjoys spending time with his wife, family, and friends, and enjoys traveling and camping in his spare time.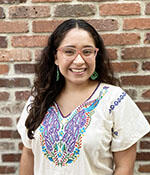 Hola todxs! My name is America Ambriz (she/her/ella) and I am a second year MSW student in the SCYF specialization. This year I will be placed at Instituto Familiar De La Raza in San Francisco where I will be focusing on more mezzo/macro work in the community. Over the years I have worked/interned at schools providing social, emotional, and academic support to middle school and high school students. I am a first generation Mexican-American, proud daughter of immigrants with roots in Michoacán and Morelos, Mexico, and a first generation college student. I have many social work interests and they change often, but the one thing that has always stuck with me is that I eventually would like to run for office to represent my predominately Latinx community back home in Texas. I truly believe we need more social workers in office. Other interests include dismantling the stigma on mental health in Latinx spaces and working with parents and their students in schools. In my spare time I enjoy hiking with my best friend (my dog, Joy), watering and caring for my plants, thrifting, and exercising!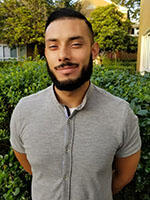 Alexander De Jesus Chavarria is a second-year graduate student from Los Angeles in the Advancing Health and Well-Being Across the Adult Lifespan track. As the son of Nicaraguan refugees, he completed his undergrad at San Francisco State University in History and Latina/o Studies in 2016. Alexander's interest in behavioral health stemmed as a result of helping Latinxs with their migration-related health concerns at Clinicia Martin Baró. Alexander also previously worked in Dr. Adrian Aguilera's DIAMANTE Study, where he assisted in creating positive changes in physical activity and mood management in vulnerable populations suffering from comorbid Type II Diabetes and Depression. Currently, he works at the City College of San Francisco where he does equity work and mentors students of color. Following his first-year placement experience as a behavioral health intern at Clinica De La Raza, Alexander will continue providing direct services to Latinx populations at the Castro-Mission Health Center. After receiving his degree, Alexander hopes to continue providing mentorship and direct behavioral health services to his Latinx community as a Licensed Clinical Social Worker.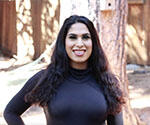 Jessie Melina Garcia Gutiérrez is a third-year MPH/MSW dual degree student in the Advancing Health and Well-Being Across the Adult Lifespan concentration. Jessie is a proud transgender Chicana from Salinas, California. Her mother is a school teacher from Brownsville, Texas and father is a field worker from Fresnillo, Zacatecas, Mexico. She received her Bachelor of Science in Anthropology and minors in French, Food Studies, and Global Health from the University of California, Los Angeles in 2018. Afterwards, Jessie worked at a Transgender Health Program in South Central Los Angeles where she gained insight to the grim realities that migrant trans women endured in their home countries particularly discrimination, harassment, and violence and how such experiences impact their mental health. Jessie plans to become a professor that teaches on transgender health inequalities and to become a therapist and work with transgender Latine identified individuals among other trans people of color. Jessie's current field placement is at Dimensions Clinic for Queer and Trans Youth where she does therapy primarily with transgender Latine youth and other trans youth of color.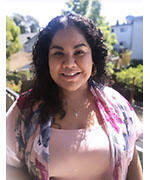 Elvia Beltran Gutierrez is a second year MSW student in the Strengthening Children, Youth, and Families Concentration. She was born and raised in Stockton, California, and moved to the Bay Area to pursue her studies. She graduated with a B.A. in Psychology from San Francisco State, and has spent the last five years working within non-profits providing safe housing to women who have experienced domestic violence; working within the perinatal services program at La Clinica de La Raza, and providing direct services and therapy within Casa Del Sol. In the last three years a majority of her work has been with monolingual Spanish Speakers. She strives to help her patients work through complex traumas and eliminate acute risk. Elvia worked with UCSF on their SOLARS research study examining the effects of stress, anxiety, and racism on pregnancies within the Latinx and African American communities. Elvia is now embarking on a new adventure with UCSF as she prepares to join their Department of Psychiatry, within their Child & Adolescents services. As a first-generation Latina, whose parents migrated from Mexico, she is extremely devoted to working within the Latinx community. She strives to end the stigma regarding mental health services; and to provide the necessary support to ostracized groups such as immigrants and people of color. In her free time, she enjoys spending time with family and friends, writing poetry, and traveling.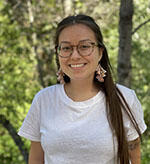 Kiara Quintanar is a first generation college student and a second year MSW student with a concentration in Strengthening Children, Youth, and Families. She graduated from Saint Mary's College of California in 2018 with a BA in Justice, Community, and Leadership and a minor in Sociology. She was born and raised in the Bay Area and also lived in the borderlands of El Paso and Juarez for a year-long service program. Kiara is passionate about being a social worker whose practice prioritizes being intersectional, trauma informed, and anti-oppressive. She is especially interested in being part of making the US immigration system a just process and has experience working with individuals and families at the US Mexico border who are seeking asylum. She was a clinical intern last year at Seneca Family of Agencies, a summer intern at Al Otro Lado, and is excited to intern at San Francisco International High School this school year. Kiara plans to work in direct services, but hopes to eventually move into policy and macro level work after gaining more experience and knowledge of the needs of the community.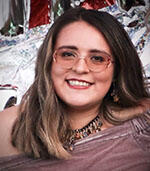 Karelin Rivera is a second-year student in Advancing Health and Well-being across the Adult Lifespan concentration program and she is interested in becoming a bilingual and bicultural mental health provider. Karelin was born in Texas, but was raised in Guadalajara, Mexico for 16 years until coming to California during her junior year of high school. She was motivated to move to the Bay Area to pursue her undergraduate education and find community especially with other immigrant youth. She transferred from Santa Rosa Junior College to CSU, East Bay where she obtained her BS in Industrial/Organizational Psychology with a minor in Statistics. After graduation Karelin was motivated to gain experience and explore career options in the social service industry. She became a Parent Support Specialist for A Better Way Inc. where she coordinated parenting classes for system-involved families. She later transitioned within the agency to a case manager position in the program Another Road to Safety, whose mission is to prevent families from entering the Child Welfare System by providing resources and advocacy. In this role, Karelin was struck by the immense need for Spanish speaking mental health providers and fell in love with family-focused work especially when servicing the latinx immigrant community. She is currently placed at Familias Unidas in Richmond where she offers therapeutic services for children, youth, adults and families. 
Quetzalli Rocha (she/her/ella) is a second year MSW student with a concentration in Strengthening Organizations and Communities. Quetzalli received her B.A. in Social Work from Humboldt State University in 2014 and has worked providing legal advocacy and support services to Latinx individuals and families. She completed her first-year MSW field placement at Safe Passages, where she continued to grow her passion for systems change work while conducting research, evaluation, and analysis for the California Reducing Disparities Project (CRDP), a state-wide initiative aimed at improving mental health outcomes in BIPOC and LGBTQIA+ communities by increasing access to culturally tailored services. Previously, she worked in building legal literacy amongst undocumented workers who had experienced wage and discrimination violations; as well as worked with survivors of intimate partner violence, securing protection orders, and navigating the family and criminal court process. Quetzalli is motivated to develop and implement culturally affirming and trauma-informed programs that respond to community needs through community-driven solutions. She will continue to expand her understanding of culturally responsive programming for Latinx communities during her second-year field placement at Instituto Familiar de la Raza.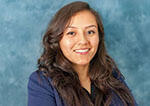 Marisol Rubio (she/her/hers) is a second-year Masters of Social Welfare student with a concentration on Strengthening Children, Youth, and Families. Marisol graduated from the University of California, Berkeley as an undergraduate. Marisol was born in Bolivia and is of Quechua indigenous descent. Marisol has been an advocate for immigrant rights and social justice. Marisol is deeply passionate about abolishing all forms of oppression, alongside communities of color, especially low-income Latinx undocumented immigrants. Marisol is a proud native of Los Angeles but has made the Bay Area her second home. Marisol's prior work experience includes working at a non-profit organization in San Francisco and Los Angeles, supporting newcomer immigrants navigating the immigration legal system and social services. Marisol's field placement will be at Legal Services for Children because she aims to continue assisting Latinx communities impacted by trauma caused by immigration issues.Marisol is also the Executive Chair of the Latinx Social Work Caucus. In her spare time, she enjoys painting, playing tennis, and traveling to new places.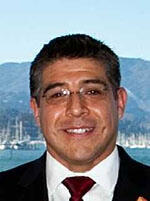 Jorge Sanchez Suarez is a first-generation and second-year graduate student in the Advancing Health Jorge Sanchez and Well-being across the Adult Lifespan concentration. Born and raised in Mexico City, he attended Law School at Universidad Nacional Autónoma de México for two years before his passion for social justice and serving vulnerable populations led him to work with non-governmental organizations. The first organization he worked for provided humanitarian aid during natural disasters in Central America and Cuba, and the second provided assistance and protection to street children and adolescents. After moving to San Francisco and learning English, he completed his B.A. in Philosophy and Religion at San Francisco State University.  He attended the UC Berkeley MSW program to learn how to better assist people in vulnerable circumstances to access their external and internal resources and improve their lives. He is particularly interested in helping Latinx and Spanish-speaking immigrants, survivors of abusive relationships and mind control in religious settings or domestic partnerships, and victims of sexual exploitation. His field placement is with the UCSF Trauma and Recovery Center Psychiatry division at Zuckerberg San Francisco General Hospital, a community outpatient behavioral health clinic, which serves families of Latin American origin. In his free time, he enjoys spending time with his family, playing guitar and piano, paddling, traveling, and riding his motorcycle.