Past Newsletters
           January 2019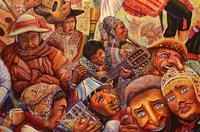 Conferences
Latino Social Workers Organization (LSWO) Conference works in collaboration with the University of Illinois LARES Program (Latin American Recruitment and Educational Services) are inviting students from Schools of Social Work to submit poster sessions. 
The Sharing Wisdom Across Generations (SWAG) conference works in collaboration with several UC Berkeley Alumni in the fields of education, business, finance, policy, health care, and social welfare. This is a great opportunity for undergraduate and graduate students to engage with Chicanx Latinx Cal Alumni and learn about their academic and professional journeys in their specific fields. Chicanx Latinx Cal Alumni are eager to meet you and provide you with advice for life during and after graduating Cal.
The Communities of Color Career Conference (4C) provides a brave space for students and alumni to engage in honest dialogue and networking opportunities. Students develop career strategies, establish mentor relationships and alumni, and leave equipped with knowledge that will help them thrive in the professions they pursue after graduation. 
Cambio de Colores is a multistate conference about the integration of immigrants in new destinations. People who work with Latinos and immigrant communities come together to share research and best practices that facilitate the integration of newcomers.
There are several resources available to undocumented students. The list provided offers students with information relevant to UC Berkeley. This is not an extensive list.
UC Berkeley's Basic Needs Center is dedicated to providing all students with support services and resources that address food, housing, and economic security.
Location: Lower level of MLK Student Union (B North), Suite 72
Mailing Address: 2495 Bancroft Way, Suite 72, Berkeley, CA 94720-4500
Hours: Monday - Friday 9 am - 5 pm
The Graduate Division provides students with additional funding opportunities through fellowships, grants, awards, and more.
There are many resources available for practicing and perfecting the Spanish language in the Bay area. The Spanish courses listed range from beginner through proficient. This is not an extensive list.
The School of Social Welfare's Job Posting Listserv serves to communicate employment opportunities related to social welfare and social work.