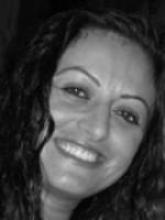 NIVEEN RIZKALLA is a post-doctoral research fellow at the Mack Center for Mental Health and Social Conflict.
Prior to her arrival at Berkeley, Dr. Rizkalla served as the volunteer coordinator at the Haifa Rape Crisis Center and the director of the Haifa Ministry of Health's Mobile Clinic, where she treated women, men and LGBTQ individuals in prostitution; trained professionals and volunteers on sexual violence; and frequently presented at conferences and gave guest lectures.
Her research interests focus on trauma – PTSD, complex PTSD, vicarious traumatization, secondary traumatic stress, posttraumatic growth and victims of torture and war in addition to women, gender-based violence (e.g., sexual violence and prostitution). She also is working on the traumatic experiences and physical and mental health of Syrian refugees and the staffers who assist them in Jordan (Middle East). Couples' intimacy, marital satisfaction and the intimate relationships of traumatized populations are another area of interest. Her most recent project delves into secondary traumatic stress, intimacy, posttraumatic growth and coping mechanisms among staffers who assist refugees and war traumatized populations across Europe, the Middle East, African and Asia.  
Phone: 510-230-6422
Email:  rizkalla555@berkeley.edu
Research / Expertise
Violence and Victimization
Women
Sexual Violence
PTSD, Complex PTSD (C-PTSD)
Syrian Refugees and Mental Health
Traumatized Populations, Victims of Torture 
Secondary Traumatic Stress, Vicarious Traumatization
Posttraumatic Growth
Couples' Intimacy and Marital Satisfaction 
Expanded Publications
Rizkalla, N. & Segal, S. P. (2017). Wellbeing and posttraumatic growth among Syrian refugees in Jordan. Journal of Traumatic Stress (accepted). 
Rizkalla, N. & Rahav, G. (2017). Different but mainly similar: Differentiation of the self, couples' intimacy, individualism-collectivism and marital adjustment among Palestinian and Jewish married couples in Israel. Hevra Orivaha [Hebrew] (in press).
Rizkalla, N. (2017). Cycles of Voiceless Silence. In E. Hertzog & E. Shadmi (Eds.), Blood Money: Prostitution, Trafficking in Women and Pornography in Israel (in press).
Rizkalla, N., Zeevi-Barkai, M., & Segal, S. P. (2017). Rape crisis counseling: Trauma contagion and supervision. Journal of Interpersonal Violence, 1-24. DOI: 10.1177/0886260517736877
Rizkalla, N. & Rahav, G. (2016). Differentiation of the self, couples' intimacy and  marital satisfaction: A similar model for Palestinian and Jewish married couples in Israel. International Journal of the Jurisprudence of the Family, 7, 1-32.