In this national moment of reckoning around issues of race and social justice, the School of Social Welfare is inviting a series of speakers to discuss issues of structural inequality, policy, and advocacy.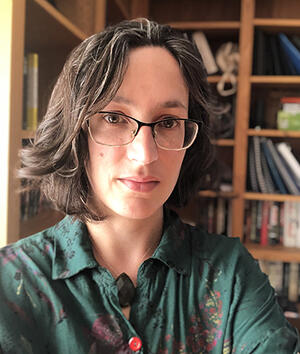 On Monday, September 28 we welcome Louise Seamster, whose talk will address "What's Systemic About Systemic Racism?"
Dr. Seamster is a sociologist whose research examines contemporary mechanisms for the reproduction of racial and economic inequality, especially in terms of debt, racial urban politics, and their intersection. She is an Assistant Professor in Sociology and Criminology and African American Studies at the University of Iowa. 
Her research centers on the interactive financial and symbolic factors reproducing racial inequality across multiple domains, particularly in cities. She writes about racial politics and urban development, emergency financial management, debt, and the myth of racial progress. Her current book project investigates the financial and political causes of the Flint Water Crisis. Another line of research examines racial disparities in debt and debt markets and the different meaning of debt for black and white families. Her work on "predatory inclusion" in student debt has led to extensive policy advocacy, including research informing Senator Elizabeth Warren's student debt forgiveness plan.  
The talk will be delivered live online to students in the seminar in social welfare research (SocWel282) taught by Dean Linda Burton and Associate Dean for Academic Affairs Susan Stone. A recording of the talk will be made available to other Social Welfare students as well as faculty and staff.
Previous speakers in this series include:
Art Hom, who served 19 years as Director of Crisis Services and Assistant Clinical Professor of Psychiatry at Mount Zion Hospital, UCSF Medical Center and then 20 years as Chief Psychiatric Social Worker for Alameda County Behavioral Health Care Services. In his current work as a Behavioral Health Consultant at Asian Health Services in Oakland, he serves underserved Asian populations with limited language skills and financial resources.
Edgar Villanueva, a globally-recognized expert on social justice philanthropy and author of Decolonizing Wealth: Indigenous Wisdom to Heal Divides and Restore Balance.
Marco A. Davis, President and CEO of the Congressional Hispanic Caucus Institute (CHCI), who spoke about his 25 years of policy experience and advocacy at the national level for Latinx populations. 
Ambassador Attallah Shabazz spoke about her ongoing role as an educator and mentor. A producer, writer, and diplomat, she is the eldest daughter of Betty Shabazz and Malcolm X. Shabazz and ambassador at large to Belize.