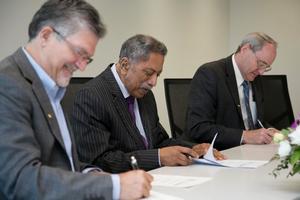 Berkeley Social Welfare is one of the leading social work professional schools in the world's top public university. Our faculty are consistently ranked some of the most productive scholars in the world and our campus is home to numerous Nobel Laureates and other internationally recognized thought leaders. We have significant faculty and program strengths in health and mental health; school-based social services; child, youth and family services; services for the aged and the management and planning of social services.
The Berkeley campus is located in the San Francisco Bay Area, a short transit ride away from downtown San Francisco, one of North America's most beautiful and culturally interesting and diverse cities. Berkeley is also located just 75 minutes by train from Sacramento, the California state capital. California is the most populous American state and a leader in providing social services to its extremely diverse citizenry. The School has close ties to the California Department of Social Services, the 11 county departments of social services in the Bay Area and hundreds of non-governmental service programs.
Berkeley Social Welfare provides customized learning experiences ranging from one-week to 16-weeks in length for global government and non-governmental leaders in social work and social welfare. A certificate is awarded to participants who complete their individually tailored programs.
One- and Two-Week Custom Programs: We host groups of up to 25 professionals for one- or two-week intensive customized trainings. The training content is negotiated with the sponsoring governmental or non-governmental organization. A dedicated team here in Berkeley works with your leadership to ensure that participants will receive a world-class program of training. We have great strengths in child and family well-being, aging services, health and mental health services, family policy, and social service planning and management among others.
Eight- and 16-Week Custom Programs: We also offer eight- and 16-week programs for selected professionals who attend classes by top thinkers in social work practice, policy and research as well as take advantage of numerous courses, lectures and other events that take place daily across the campus. Participants also have full access to the University's 39 libraries as well as the same electronic resources available to our faculty and students. Semester Program participants will be able to visit, observe and in some cases volunteer in services provided by a variety of innovative public and non-governmental social service agencies.
For more information contact swdean@berkeley.edu.
Brunei Fellows
In Spring 2017, Berkeley Social Welfare hosted Dimang Chhann, a Masters of Public Administration student from the Universiti Brunei Darussalam.
Chhann was one of four fellows from Brunei who took courses Berkeley Social Welfare towards their MPA degrees at their home university, the other three fellows were based at the Goldman School of Public Policy.
China Fellows
In Summer 2014, Professor Julian Chow oversaw the professional development training of 26 social workers visiting from China.
Tauropaki Trust Leaders, New Zealand
New Zealand's Tauropaki Trust has established a fellowship to send a Trust leader to Berkeley every semester for leadership training in specific areas of interest to their membership. Selected Maori leaders will be based at the Goldman School of Public Policy and Berkeley Social Welfare on alternating semesters as well as one- and two-week periods. The Trust is particularly interested in social welfare issues related to youth, family and aging among their tribal member families.