Health and Welfare Minister Park Neunghoo (PhD '98) on promoting policies that benefit children and the elderly in South Korea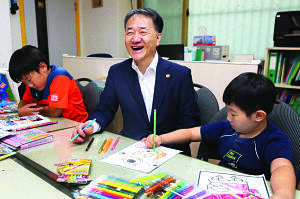 Dr. Park Neunghoo (PhD '98) remembers the day — it was February 22, 1998 to be exact — that he earned his doctoral degree in social welfare from the University of California, Berkeley. Having completed his dissertation on California's public assistance programs and welfare reform policies under the guidance of his mentor and dissertation chair Professor Neil Gilbert, Dr. Park was ready to return to his native Republic of Korea to further his work in designing and evaluating the country's welfare policies.
That journey home nearly two decades ago has led Dr. Park to Korea's national Ministry of Health and Welfare office, where he has served as minister since July 2017. In a conversation with Social Welfare at Berkeley last November in Seoul's Jung District, Dr. Park discussed his administration's welfare policy priorities, his career path as well as memories of Berkeley "as one of the happiest times" of his life.
Similar to other East Asian Berkeley Social Welfare alumni, including Hong Kong Legislative Council Member Dr. Fernando Cheung (PhD '91) and Institute of Social Development and Public Policy at Beijing Normal University founder Dr. Xiulan Zhang (PhD '99), Dr. Park chose to pursue his degree at UC Berkeley because of the greater opportunities for advanced social welfare research.
Dr. Park says he was drawn to the academic area of focus because "it responded to the needs of Korean society at the time." He notes, too, that the "authoritarian" nature of the government during the late 1980s and his early years in college also played an important part in his decision. "Many of my friends were arrested and went to prison," he explains. "That compelled me to think about my career. I wanted to do something good for my country and achieve social justice for Korea. Intuitively I knew social welfare was one way to do so."
Upon his return to Seoul, Dr. Park resumed his work at the Korea Institute for Health and Social Affairs (KIHASA), where he was employed prior to his studies at Berkeley. His second tenure with the institution lasted six years and coincided with the Asian financial crisis, which spurred the Korean government's need to design public assistance programs. His deep understanding of welfare policy informed his contributions to the development of the country's Basic Livelihood Security Program (BLSP), which Dr. Park describes as an "incredibly meaningful program in the history of Korean welfare policy."
While at KIHASA, Dr. Park was also involved in a number of academic societies, including the Korean Association of Social Welfare Policy and the Korean Social Security Association, serving, at different times, as president for each. In 2004, he joined the faculty of Kyonggi University in the Department of Social Welfare, where he taught and conducted research for several years until joining Moon Jae-in's presidential campaign in 2012. Although they lost that first election bid, they ran again a few years later and won. President Moon was inaugurated as the 19th president of the Repubilc of Korea on May 9, 2017, and two months later, Dr. Park was appointed minister of health and welfare, responsible for overall welfare policies covering the areas of labor, social services and the environment.
Among the many priorities of the new administration, as pledged by President Moon, is reforming welfare policies, particularly as they pertain to universal healthcare, support for families and children and assistance to the aging population. During his first few months as minister, Dr. Park has prioritized the expansion of Korea's National Health Insurance (NHI) program, including provisions to lower co-payments for doctor visits and introduce coverage for medical services currently considered elective or non-essential.
Dr. Park also cites the pressing issue of the country's "low-fertility crisis," referring to the generation of Koreans electing not to start families because of the high costs associated with raising children. "The Korean government recognized the problem of low fertility 10 years ago, and we have made various efforts in designing policy," he explains. "Unfortunately, having policies doesn't mean they all work. We continued to see a decrease in fertility rates, and this administration is tackling this problem from the foundation.
"I think young people avoid having children because they are uncertain about their own future and are unsatisfied with their current economic status," he adds. "They think that there is no hope for the future generation. That uncertainty comes from unstable housing and employment and high costs for child-raising." By pushing for policies that promote job stability, including transforming temporary or part-time work into permanent, full-time positions; improving working conditions for women and their work-life balance; and providing free quality daycare, Dr. Park is hoping to see a turnaround.
Also widely recognized as a growing concern is Korea's aging population, particularly the percentage of seniors who live in poverty or require specialized care for aging-related diseases, such as dementia. "The government has taken strong initiative to care for dementia patients and include dementia as part of the expanded welfare policy," says Dr. Park.
Dr. Park also explains that the country's pension system is currently in a "transitional period."  "Most of the enrollees are middle- or high-income individuals, so people who need the government's help the most are left out," he says. "That probably explains why the poverty rates among the elderly are the highest in Korea among other countries." The goal to replace the current pension system with a basic social security "in the form of public assistance" to low-income seniors will hopefully help remedy the widespread impoverishment, but Dr. Park notes his belief that the "level of benefits provided are still too low to lift those elderly out of poverty."
The unifying aim of Dr. Park's reform efforts for Korea's social service policy is to achieve what he describes as an "inclusive welfare state," in which a basic standard of living is set for all people. "It is my goal to introduce policies promoting community-based care so that vulnerable population groups, such as the elderly and persons with disability, can access services they need while actively engaging with people in their communities," he explains.
REMEMBERING BERKELEY
"Many people have asked me, 'Wasn't it hard to study abroad?' But for me, Berkeley was one of the happiest moments of my life," Dr. Park responds when asked about his present-day thoughts about his alma mater. "When you're in heaven, you don't realize you're in heaven."
His fondness for his Bay Area days comes from their contrast with his prior experiences in Korea, where concurrent academic and professional activities kept him overscheduled. At Berkeley, he says, all he "had to do was study" — a luxury he gratefully attributes to the fellowships and other financial support he received.
To illustrate this point, Dr. Park shares a story about his funded position as a research assistant (RA) for Professor Gilbert. "He never made me do anything," he laughs. "The condition for my earnings was that I should read whatever book I loved, come back to him and have discussions with him about it. I took that as meaning he really trusted in me — and that encouraged me in a profound way that I appreciate."
As for advice that Dr. Park has for current Berkeley Social Welfare students, including the many South Korean students who continue to enroll in the School's PhD program with the goal of bringing their research and knowledge back to their native country, he offers, "Do your best at Berkeley because it provides the best opportunities. Study hard. Be ambitious. Enjoy the beautiful, natural environment.
"Lastly, make connections," he adds. "Stay in touch with professors and students, and scale up your own capabilities. And wherever you go, whether you come back to Korea or go to another country, you'll be able to thrive."