Mu Sochua (MSW '81) on advocating for human rights in Cambodia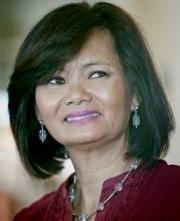 Mu Sochua (MSW '81) came to Berkeley Social Welfare in 1981 wanting to make a difference. Three decades later, that difference is a tangible set of accomplishments that run the gamut from social worker to political powerhouse.
Sochua grew up in a wealthy family in Cambodia. Her father was the owner of a private airline, and Sochua grew up in a privileged household, trained at the best schools.
But her life changed suddenly with the beginning of the Cambodian Campaign, a military operation carried out by the U.S. and Vietnam to root out Viet Cong rebels in Cambodia. The result was increasing violence in Cambodia, and Sochua's worried parents put her on a plane headed for Paris in 1973. Although she was then safe from the violence in Cambodia, her parents were not. Her mother disappeared after a visit to the U.S. in 1974; her father died of malnutrition in 1979.
Her painful past drove her to want to help those from her war torn country. She received a scholarship from UC Berkeley and while studying for her MSW, Sochua did fieldwork at the Alameda County Health Care Services, Asian Program in Oakland during 1979-80. Her second year placement was at the YMCA in the Tenderloin District of San Francisco, with the Cambodian Project.
"It is a very Cambodian way of thinking not to be egotistic," Sochua told the SF Chronicle in an article about Cambodian refugees in 1979. "Once you are safe, you have to think of the people who suffer…It is a common feeling that we all share."
After her time at UC Berkeley, Sochua returned to Asia, first to work with Cambodian refugees in camps along the Thai border. In 1989 she moved back to Cambodia and with her newly acquired social work skills, started Khemara, an NGO dedicated to fighting for women's rights. There she began tackling some of the most difficult issues plaguing Cambodian society, such as sex trafficking and domestic violence.
"Discrimination and violence against women can be addressed when society as a whole values women as human beings and as equal partners," writes Sochua on her web site. "As a woman leader I lead with the strong belief that women bring stability and peace, at home, in their communities and for the nation. I feel most satisfied when the women's networks move together, create a critical mass and gain political space."
In 1998 Sochua became the nation's first female Minister of Women's Affairs, but after witnessing government corruption, she left the position and joined the opposition party. In 2002 Sochua helped organize 25,000 women to run for election throughout the country, with over 900 women elected. Today she serves as an elected Member of Parliament (MP) with the Sam Rainsy Party in the Cambodian National Assembly.
Using the social work values of challenging the status quo and advocating for the most vulnerable in society, Mu Sochua has worked as a model activist in a nation suffering from a legacy of violence and colonialism. Armed with the skills she learned in her MSW training, Sochua has become an effective and powerful organizer and leader.
In the past few years, Mu Sochua's activism has gained international recognition. In 2005, Sochua was nominated for the Nobel Peace Prize for her efforts to stop the trafficking of women in the Cambodian and Thai sex trade. At UC Berkeley's 2007 Commencement Convocation, Chancellor Robert Birgeneau presented Sochua with the prestigious Elise and Walter A. Haas International Award for her distinguished record of service to her people and country. Additionally, to honor her advocacy for women's rights, Sochua was profiled in the documentary play Seven.